China trip offers study abroad, return home for students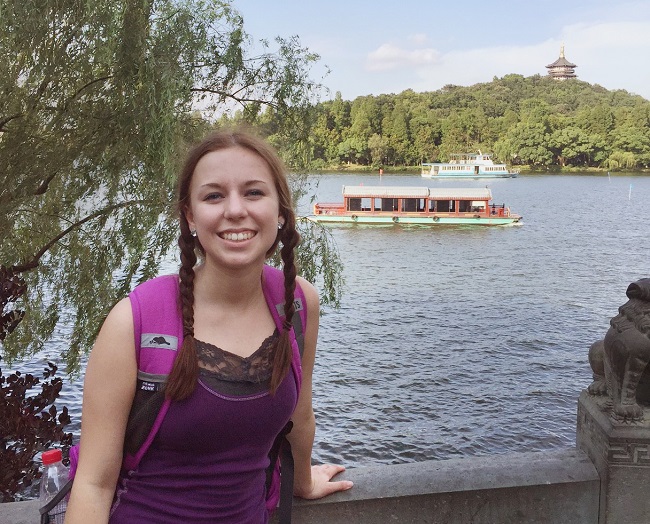 A study abroad trip offered seven Trine University students the opportunity to get a taste of life in China over the summer. It also offered the opportunity for one of them to introduce her fellow students to the culture of her childhood.
The group participated in the China Studies trip from July 4-21 at Hangzhou Normal University in Zheijang Province, China.
Students who participated were Margaret Delmont, a junior communications major; Yuhan (Serena) Zhang, a sophomore majoring in electrical engineering; Jimmy Bailey, a senior majoring in elementary education; Kayla Tracy, a junior majoring in criminal justice; Natalie Woodley, a junior majoring in criminal justice and psychology; Nicklaus Lang, a senior majoring in social studies education; and Amanda Higbee, a senior majoring in communications. They were joined by other university students from the Chicago area and from Slovenia.
Students said being able to complete the program over the summer and the trip's low cost — Hangzhou Normal University gave the students scholarships to cover the costs of the program itself, leaving students to cover airfare and the cost of a visa — gave them the opportunity to participate. Bailey also said a study abroad experience to Japan in 2015 inspired him to join the China trip.
"I really enjoyed Japan and I love the Asian culture, so going to China was the next step," he said.
"I was excited to go to China because it is an unconventional study abroad destination," Higbee said. "Most college students travel to Europe and I really wanted to go somewhere with a more unique experience."
For Zhang, whose family moved to the United States from China when she was 13, the trip offered the opportunity to get a taste of what college is like in that country. She had never been to Hangzhou prior to the China Studies trip.
"I was just kind of curious because I hear a lot about college from my Chinese friends," she said. "It feels like it's home here in the United States, but it's also home in China. I enjoy the two different cultures a lot."
Students said that when they arrived in China they were struck by the heat – 90 degrees with high humidity – and the number of people. They landed in Shanghai, China's largest city, then travelled to Hangzhou, which is its fourth-largest.
"Coming from a small town, I could not believe I was in a city that made Chicago look like a village," Higbee said.
"It took a while to get used to," said Woodley, "but that is also what I wanted to experience – the differences in the culture and the environment."
Hangzhou University provided a local chaperone for the students who also served as translator. Zhang shared translating duties, which she said was overwhelming at times.
"Everybody was asking about everything. It was a totally different environment for the other students, and language," she said.
At the university the students attended classes in Chinese culture, economy, education and law as well as a kung fu class.
"We all enjoyed getting pork buns, cabbage buns and pork dumplings for breakfast," Higbee said. "By the end of the trip, I could even ask for my breakfast 'to go,' which I was very proud of."
The group also took field trips to Shanghai, the scenic West Lake and Wuzhen, a town in the northern part of the province known for its canals.
"One of my favorite experiences was going to West Lake," said Higbee. "West Lake is a UNESCO World Heritage site with beautiful landscapes. There is also a fantastic restaurant on the lake with world-famous food. One of our professors knew the chef and was kind enough to have dinner with us there."
"Personally, I am very interested in history, and China's history is very rich, so being able to explore around the ancient towns and temples was awesome," said Woodley.
Zhang said the trip to Shanghai gave her the opportunity to share places she had visited many times as a child with her friends.
"It was so much fun just to be able to take them to places I like to be," she said.
The students also had an ample amount of free time to explore their surroundings.
"We went to markets in Shanghai, Silk Town in Hangzhou and in Wuzhen," said Higbee. "I liked interacting with the vendors and using my limited Chinese to barter."
"We would take the buses to the mall downtown and just explore," said Zhang. "I think that was my favorite part to do with all my friends. It was just like a friends' trip overseas."
The other students said they attracted attention wherever they went.
"People would want to take pictures of us all the time," said Bailey. "I loved taking pictures; I loved getting to talk to people. They were really infatuated with facial hair or cowboy hats, and also blond hair and blue eyes."
The students said the experience fueled their desire to travel more overseas.
"Travelling around the world can provide so much information and experiences that you just can't find in the classroom," said Woodley. "I am ready to embark on my next adventure and book my next trip."
The China Studies program and scholarships from Hangzhou Normal University will be offered again to Trine University students in the summer of 2017.
Photo: Trine University senior Amanda Higbee stands by scenic West Lake in Zheijang Province, China.