Konieczki gains newsroom experience during internship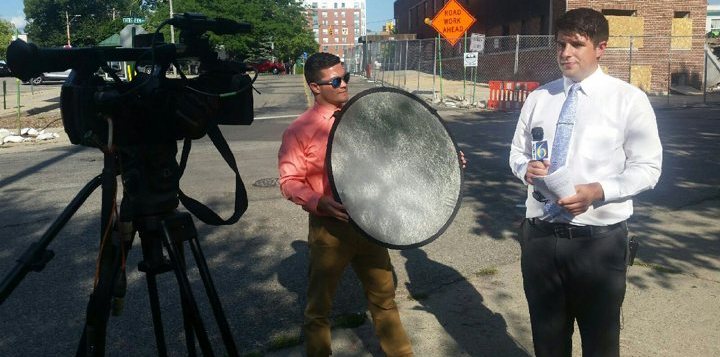 By Annabelle Elder
communication '17
Cody Konieczki can commonly be found with a microphone in hand, asking students the Question of the Week on Wednesday afternoons around Trine's campus. With his friendly demeanor and his apparent comfort in front of the camera, he makes it easy for students to be interviewed during his weekly questions. This may be in part due to his experience this summer as an intern at the WLNS Channel 6 News in Lansing, Michigan.
Konieczki is a communication major with a focus in new media production. He already had two previous internships under his belt, but felt that an internship with the news channel stood out.
"What made me want to work for the newsroom was doing my second internship with Debbie Myers-Lockwood (former director of communication at Trine)," said Konieczki. "She told me I should try and to apply to a couple news channels when I was applying for summer internships last January. While working for her, I was writing articles for Trine and she told me I would make a natural reporter for news channels if I gave it a try. I applied to WLNS and heard back in just a week saying I had the internship."
"This internship was interesting because it was different every day. I never did the same thing the whole summer. News is, after all, unpredictable."
His responsibilities as an intern included working one-on-one with reporters, photographers and producers to gain experience, taking photos to be used for news packages and WLNS's website and helping reporters film and interview for their packages.
"My perception in the beginning was that I wasn't doing much but observing, but toward the end I wanted more and more tasks and responsibilities. I wanted to be on camera and be the full package reporter," Konieczki said.
First, he went behind the scenes to learn the ropes of the newsroom.
"Every day, I had to pitch a story or two for either the five or six o' clock news during the daily newsroom meeting. I started with shadowing and observation during the first two weeks. By the end of my internship I was active in putting together the story from start to finish."
Konieczki added that he would set up interviews, decide the angle of the story and create the questions he would ask the people he was interviewing. He shot B-roll footage for the story as well.
"I was eventually able to create my own practice news package," Konieczki said. The package is online at youtu.be/Jz1lrIWyikg.
Konieczki commented that while interning, he had to contact his old high school to interview a student and the results were comical. "It was the first story I was a part of the whole process for and Joe Gebhardt (a news reporter I worked with) asked me if I knew any teen drivers, preferably 16 years old. I knew my mom's co-worker's daughter was 16 at the time, so I told Joe. I set up the interview to see when we could interview her. It was a school day, so I had to call my old high school to ask the principal if it was okay if Joe and I interviewed Grace."
"When I called my old high school, I said, 'Hello, this is Cody Konieczki with WLNS Channel 6 News. May I speak to Mrs. Falasco (the principal)? The secretary on the phone said, 'Yes I can transfer you to her phone now — Wait, did you say your name was Cody Konieczki?"
The secretary couldn't believe it was Konieczki calling her from the news channel. The same thing happened when he was transferred to talk to his former principal.
"It was funny because I was going back to my old stomping grounds as an intern for the most watched news channel in Michigan. They all couldn't believe it and were so proud of what I had accomplished since graduating in 2013."
You can see the video from that story at wlns.com.
Konieczki said his one disappointment in the internship was not being able to appear on camera.
"I could do everything for the news story but be on camera," he said. He added that he did do B-roll footage for the news channel that can be accessed on YouTube.
"What I took away from this internship is all the preliminary measures a reporter must take before actually putting together the story," he said. "In the news, you must be a fast and efficient worker. You have to be able to work under pressure."
Colin Meadowcroft, digital multimedia specialist for Trine University, works with Konieczki when they film the Question of the Week each Wednesday and said the internship has helped Konieczki develop his skills.
"Cody is very outgoing and loves to interact with people. I think his internship really helped him become comfortable on camera," said Meadowcroft. "He's really energized this campus on Wednesdays when we walk around filming Question of the Week!"
For communication majors in particular, Konieczki also offered some sage advice, "Take all the courses you can with Justin Young. The things I learned from his new media-based classes helped me in this internship, along with my other ones. He knows what he is talking about, and I recommend that all communication majors take his classes."
"The best advice I could give to someone in my major looking for an internship is to apply to as many as possible," he continued. "It's better to be accepted for too many than not getting accepted to the one you applied for. The more experience you gain while in college will only benefit you more when applying for jobs. There is not a bad internship while in college, only one's bad attitude or lack of work ethic."