Study brings new teaching method to Trine
A Trine University professor used innovative teaching methods for a mechanical engineering course and reported on her results as part of a study funded by the National Science Foundation.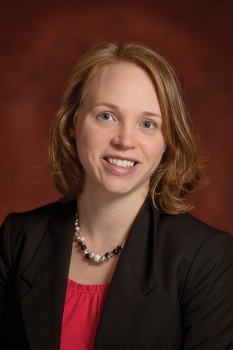 Maria Gerschutz, Ph.D., chair and assistant professor of biomedical engineering at Trine, taught the sophomore-level Dynamics course in the fall 2015 semester using the Freeform Classroom approach developed by faculty at Purdue University and used there since 2009.
Research into the Freeform approach is part of a project funded over four years with a $1.4 million grant from the National Science Foundation and led by Purdue faculty. Part of the study, Gerschutz said, is to analyze the process of adopting Freeform and what parts of Freeform work well at different universities.
Jamie Canino, an associate professor in Trine's mechanical engineering department, was familiar with some of the faculty who were working on the Freeform project, having earned his master's degree and Ph.D. from Purdue. He invited a group to speak at Trine's Center for Teaching Excellence in the spring of 2014.
Gerschutz, who was scheduled to teach Dynamics, was approached and asked if she would be willing to participate in the project. The researchers said the 2015 course marked the first time an instructor at a partner institution wholly adopted the Freeform learning environment.
"They're reaching out to other universities, but we were the first to take it on," Gerschutz said.
Over the semester Gerschutz reported on her experiences in using the Freeform approach to researchers at Purdue.
"They wanted to see the effects of adopting what was successful there into a Dynamics course at a different university," Gerschutz said. "They were studying me as an instructor and what it took for me to take on Freeform, and how it affected our students."
Gerschutz said Freeform style is an active, blended and collaborative learning environment, integrating online material with student-student and student-instructor interaction while collaborating to solve problems. One of the biggest differences she found was that the textbook for the class was replaced by a workbook, allowing students to work out problems in the book.
"The classroom style for me personally wasn't a huge difference from what I was doing before, it just provided a lot more resources," she said. "It allowed me to focus more on concept questions because some of the core information was available online for the students."
Although she said there were some challenges in adapting the new material, Gerschutz said she felt the result was a positive outcome for her students.
"This style allows the students to think more critically through the process about what is actually occurring in the problems, and to take these fundamental theories and actually apply them and understand what's going on rather than just working through a problem," she said.
"Students learn differently and this gives them additional resources for them to learn and engage what best fits their needs. It allowed me to be more active with my students and engage them more during the time we meet face to face."
Gerschutz was co-author on a paper detailing her experiences that was presented in June at the American Society for Engineering Education's Annual Conference & Exposition in New Orleans. "Transforming a Dynamics Course to an Active, Blended, and Collaborative Format: Focus on the Faculty," was one of three papers presented at the conference that covered research into the Freeform Classroom, Purdue University said.
Gerschutz said she passed on her class materials and experiences to Kiwon Park, Ph.D., and Pavan Karra, Ph.D., assistant professors of mechanical engineering, who taught the Dynamics course using the Freeform style in spring 2016. She said Trine's mechanical engineering department plans to continue using the Freeform approach for its Dynamics course.