HAC Cup engages high schoolers in humanities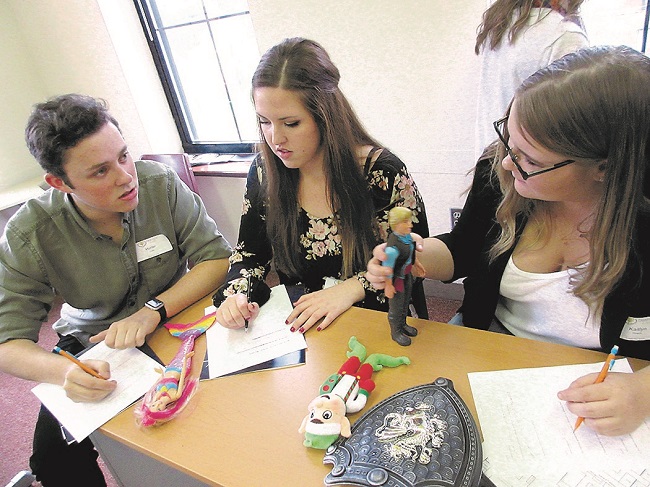 By Amy Oberlin
KPC Media Group
ANGOLA — Four area high school groups participated in the third-annual Trine HAC Cup on Tuesday, Oct. 18.
Students from Angola, DeKalb and Fremont high schools and Camden-Frontier High School in Michigan signed up for a variety of interactive classes throughout the day. Based primarily in the Taylor Hall of Humanities, the event provided a taste of Trine University's Humanities and Communications (HAC) Department.
The fare included perspectives on video games, impromptu speaking, mapping, poetry, films, literature and social media as well as other facets of education and modern life. Students had a chance to write "Twitter novels" in one class and create works of art from discarded materials in another.
One of the courses, taught by Trine professor Jeanette Goddard, focused on gender roles as defined by children's toys. Goddard — who is in her first year at Trine, coming from a small Christian college near Chicago — opened by asking the students to introduce themselves and say what their favorite toys were as a child.
The class was mostly girls. Bratz and Polly Pocket dolls, stuffed animals and Barbies were the common answer.
Goddard noted that many of the students in her afternoon class on gender roles in toys were also in her morning Disney-themed class, and that some of the ideas from the first class could be expanded during the toy session. She led discussion on gender roles in society, and the students noted commonly segregated things, like clothing departments and jobs. Women's jobs tend to be less physical and lower paid, explained Goddard.
In toy commercials played for the students, the items geared toward girls featured calmer music, emotional themes and a lot of pink. Boys commercials tended to focus on the toys themselves doing exciting things, and words like "power" and "destruction."
An interesting phenomenon in Lego advertising is demonstrated by commercials geared specifically to girls or boys. The old commercials showed a table surrounded by boys and girls making things with Legos, Goddard noted.
Recent advertisements watched by the high schoolers on Tuesday showed two distinct marketing techniques. In discussion, students pointed out that the girls' commercial showed images of a girl and her mother, and also the girl playing alone; "you taught me to think for myself," the verbiage says.
"It was playing on that maternal role," said Kaitlyn Roach, a DeKalb High School student. The focus appeared to be on creating independence.
In the male-dominated Lego commercial, a boy and his dad built big things and the word "team" was repeated several times. Kelsie Wren of Angola High School said she could see a difference in Lego's description of the father role: "how he teaches him everything he will ever know."
While the girls' advertisement used emotional appeal, Wren said, the boys' seemed more playful.
After considering marketing, the students moved on to a more tactile experiment. They were allowed to randomly select toys peppered throughout the room on chairs and in window sills. On a worksheet, they took notes on any gender-specific markings and answered "How does the toy invite you to play with it?"
For example, the pink stuffed animal may invite a hug while the toy gun may invite pretend killing.
Story and photos courtesy of The Herald Republican