Trine alum runs with a higher purpose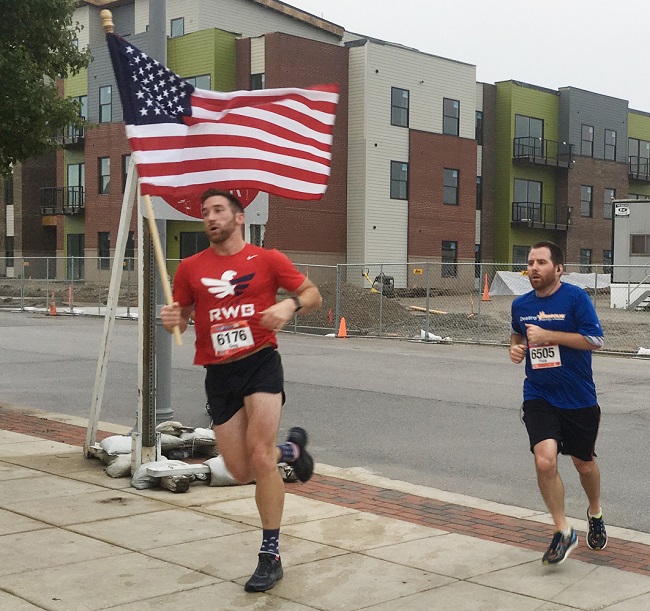 By Tom Davis
The News-Sentinel
FORT WAYNE — A lot of news has been made by athletes throughout the United States of America this fall in terms of making a statement toward people's love and passion for this country and what it stands for, as well as the events that transpire here.
Sam Hartman, a 2009 Trine University alumnus, has joined that group, albeit, in a far different manner.
While the likes of NFL player Colin Kaepernick and the Indiana Fever, among others, have shown their emotions toward violence in this country by taking a knee during the National Anthem, Hartman has done anything but, as he expresses how he feels for America while on the move.
The 29-year-old Fort Wayne native competed in the 10K race during the Fort4Fitness event Saturday, Sept. 30, and he did so while carrying an American flag for the entire 46:38 of his race.
"Any time that I do a race," Hartman said, "I like to do it with a flag for a little extra challenge to myself, but also to watch the positive response of the flag, still."
And he saw that on Saturday throughout the streets of this city.
"Oh man," Hartman said, "people were saying, 'I'm going to run with you the rest of the time because everyone is cheering for the flag.'"
The foundation of Hartman's action lays in his volunteer participation in the national organization Team Red, White & Blue. The former Bishop Dwenger High School football player has belonged to a local chapter of the organization for a couple of years and its mission is to help integrate military veterans back into society through social and community events, as well as fitness-related events.
"It's a civilian and veteran-run organization," Hartman explained. "I am fortunate enough to be included."
The organization seeks to enrich the lives of veterans through the components of health, people and purpose. "Team RWB" conducted over 32,000 events in 2015 with nearly 6,000 of those being local fitness and/or athletic-related events.
"It is meant to get veterans back into and active in communities socially, physically, fighting (post-traumatic stress disorder), and things like that," Hartman said.
Hartman mixes up his training regimen in a variety of ways, not just running. However, he has found when he does go for a jog and takes the flag, it catches people's attention.
"I'll take the flag out some days, but some days I don't," Hartman said. "It just depends. But those training runs are really fun to do with the flag because it is completely unexpected.
"You might see a couple people run with a flag in a race, but when you see one guy running down Coliseum Boulevard with a flag; that is a little different."
The current Republican Party Presidential nominee is vowing to "Make America great again," but Hartman said that even through its distressing moments, there is a lot to hold dear about this country for civilians and veterans alike.
"There are a lot of things that are wrong with the world, but there is a lot that is right too," Hartman said. "The flag still represents a lot that is right. This is good for our veterans to know that there is still positivity about what they are serving for."
Story and photo used with permission from The News-Sentinel, Fort Wayne, Indiana