Kolar wins Czech tennis championship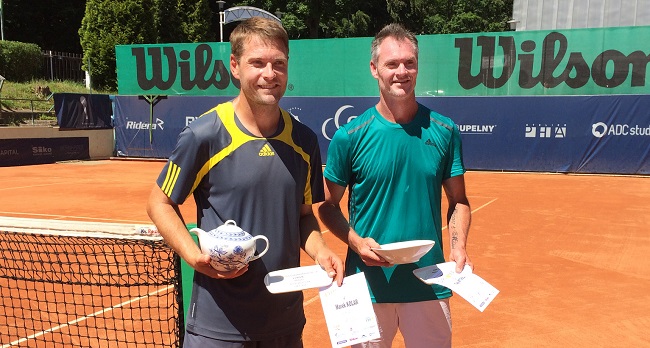 Marek Kolar, Ph.D., from Trine University's Ketner School of Business, won the International Seniors Championships of Czech Republic in both singles and doubles tennis in the over 40 years of age category.
The tournament was held June 20-24 in his hometown of Karlovy Vary, Czech Republic.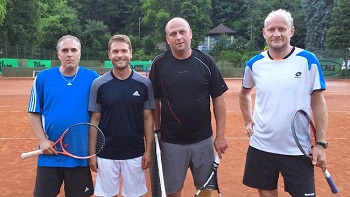 During the summer he and his wife Erin — who is head coach for men's and women's tennis at Trine — and their two children, Mikaela, 7, and Evan, 5, regularly travel to his hometown. Kolar has competed for a tennis club in Karlovy Vary as well as R.C. Sport Leipzig, a tennis club in Germany, in various leagues over the years.
There were 19 competitors in his age category. His older brother Vaclav Kolar was his partner for the doubles competition.
Kolar turned 40 this past March.
"My brother actually asked me if I would play doubles with him in a Seniors Championships tournament in my hometown," he said. "The most popular categories are actually over 50 and over 60 years of age, but I guess we made the decision to start our new individual senior careers this year."
In singles, he began by defeating a player from Poland 6-0, 6-1. He lost his first set in the quarterfinals to a German player 6-2 and was down 4-3 in the second set, but recovered to win the last two sets 6-4, 6-2.
His semifinal opponent had to forfeit the match due to injury, which put Kolar in the finals against former professional tennis player Toby Mitchell from Australia, who he said was ranked 248th in the world by the Association of Tennis Professionals (ATP) in 1998.
"I went into the match with the mindset that I had nothing to lose," Kolar said. "It was very hot that day — close to 90 degrees, sunny — and we battled for about an hour and a half for the first set.
"I ended up losing 11-9 in the tie-breaker. Luckily for me, Toby couldn't keep up his game in the brutal conditions in the second and third set, and I ended up winning 6-1 and 6-2, with the entire match lasting over three hours. I am happy that I was able to play an absolutely even match with him in the first set when he was playing at the top of his game, and also happy that I was in such great condition physically and mentally that I was able to outlast him in the heat."
With the victory in Karlovy Vary, Kolar is now ranked is 120th in the world in the over 40 category by the International Tennis Federation.
In the doubles tournament, Kolar said he and his brother beat a strong team from Australia in the semifinals.
"One of our opponents was 60, but he was a great doubles player, and the match was a thriller," he said. "After having a match point ourselves, we were down a match point in the super-tie-breaker (played in place of the third set, until 10 points) and somehow tied it at 10-10. Then my brother hit an ace, his first in the match, 11-10, and then one of the Australians hit a double fault, his first in the match, and we won 12-10! I think we both felt 10 years older after the match."
The brothers then bested a Polish team in the finals, 6-3, 6-3.
Kolar began playing for R.C. Sport Leipzig in 1994 before becoming a collegiate tennis star at Northwood University in Midland, Michigan.
"Actually, during my first year playing in Leipzig, I helped the junior team win a Saxsony 18 and under championship. Now we won the same with the over-40 men's team this past summer," he said, laughing. "My three highlights from playing in Leipzig for all these years are: one, beating a player who was ranked around 550th in the world (ATP) at the time; two, beating a junior under-18 Czech Republic champion when I was already over 30 myself; and three, playing for two seasons in the second-highest league in Germany, the second Bundesliga, in 2012 and 2013."
Kolar helped lead his collegiate team to four GLIAC Conference Championships and a fourth-place NCAA Division II Championship finish in 1999. He was a four-time All-American during his tenure at Northwood from 1997-2000 and was inducted into the Northwood University Athletic Hall of Fame in 2010 for his accomplishments on the tennis court.
Kolar, who is entering his eighth year of teaching at Trine, is looking forward to competing and coaching at the university.
"I am so excited about the opportunity to help, in my free time, as a volunteer coach with Trine tennis teams starting this fall, now that my wife is the new head coach for both teams," he said. "I am looking forward to being a lot more involved with tennis at Trine and helping the players when I can. It's going to be a little crazy, with both of us involved, and then also taking care of our two kids, but we are all looking forward to it."