Fellowship puts education student in a class of her own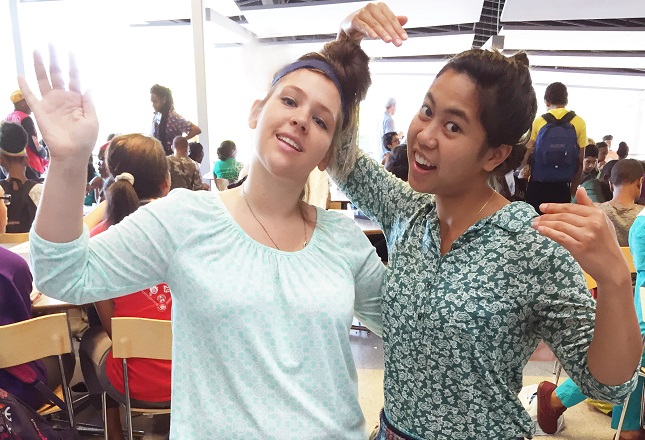 Kristen Martin was googling for a summer job to develop her teaching skills.
She found not only that, but the opportunity to impact inner-city students and make memories that will last a lifetime.
The senior elementary education major from Fairmount, Indiana, served as one of 32 fellows over the summer for Breakthrough Cincinnati (BTC). Described as a tuition-free academic enrichment program, BTC serves middle school students from underserved and/or underrepresented communities.
"I was looking for a way to develop my teaching skills and make a difference, so I set out to find a summer job that would help me accomplish that goal," Martin said. "I came across the Breakthrough website and eventually discovered they had a site in Cincinnati."
Martin completed an online application that required three essays, information about relevant experience, a transcript and a resume. In the next round, she provided a five-minute mock teaching video and a chant about the lesson she taught. Finally, she had an interview with one of the program's deans before being accepted.
Martin participated in BTC's annual six-week Academic Summer Session, which serves more than 100 students from the urban core of Cincinnati. Students are selected for the four-year program, held at the Cincinnati Country Day School, on the basis of academic merit, educational goals and need, beginning the summer before their sixth grade year.
The program's website says teaching fellows "attend a number of excellent high schools in the Cincinnati area and top-notch colleges/universities throughout the country." Martin said they had two weeks of training before students arrived.
"We were given a general idea of how things were typically done. We were given brief training on classroom management and lesson planning," Martin said. "Otherwise it was mostly on-the-job."
Martin's responsibilities included teaching literature to sixth graders for two class periods a day, teaching a creative writing course, teaching a class about creating floor plans and teaching the basics of volleyball. She developed lesson plans for each day she taught literature and creative writing.
Other responsibilities included playing with the students at recess and sitting with them while they ate breakfast and lunch; leading an all-school meeting; facilitating activities including a canoe trip, college fair, talent show, field day and career fair; greeting and saying goodbye to the children in song each day; and leading an advisory group of five children.
"Each day you would find something that either worked really well or didn't," Martin said. "Each subject had an instructional coach who was there to provide guidance and support when creating lessons. There were also deans who were there to help us with discipline or other classroom situations."
Martin said she was well-prepared for the experience through her coursework at Trine, thanks to classes that focused on communicating effectively with students and teaching in culturally diverse environments.
"Since Trine's education program gets us into classrooms in year one I was more than prepared to work with the students," she said. "Also, Trine has us writing lesson plans very early, which helped me succeed this summer. I already knew what would and wouldn't work and that was incredibly beneficial.
"Trine did an excellent job preparing me, which resulted in good reviews from my instructional coach."
Martin said memories of the growth she saw in her students will stay with her the most. At the student-led parent conferences held halfway through the program, one boy was nervous about having to share areas he needed to improve on, but found when he did that his mother was proud and supportive. Martin said he came to class the next day "beaming."
"I got to see them grow so much in the six weeks they were with me," she said. "I will remember how excited they were to learn and how each day they were ready to see what I had planned. Each child made an impact on my life and taught me something different. I may forget the specifics of the summer, but I will never forget my students."
She called the experience "the single best thing to prepare me for my teaching career."
"I got the chance to have my own classroom and be completely responsible for what my children learned," she said. "I got a chance to work with children from different walks of life than myself, which I think will help me be better prepared for wherever I teach in the future. I think by having this summer to practice writing lessons, prepare lessons and manage a classroom, I will be so prepared for student teaching and will in turn be more prepared for my teaching career."