Logansport student trades badge for classroom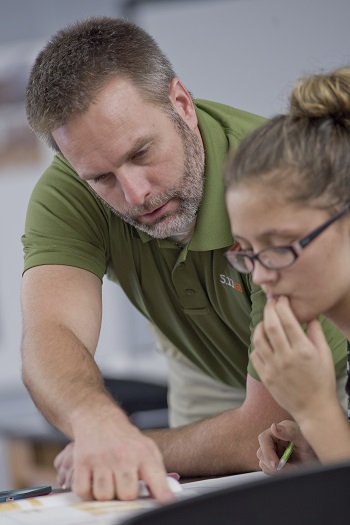 LOGANSPORT — Mike Shannon became a Cass County Deputy Sheriff because he wanted to change the world. Now, he's looking to change the future.
Shannon, who is in the home stretch of his Bachelor of Science in Criminal Justice degree program at Trine University's Logansport Education Center, recently became the criminal justice instructor for the Century Career Center, a career and technical school attached to Logansport High School.
"I'm able to influence these kids who are forming the next generation of police officers and lawyers," he said. "When I was a deputy sheriff it became apparent that anytime someone calls for me it's a negative. Here it's a positive right off the bat."
Shannon had served as a deputy for about 10 years when he said the long hours, not knowing whether he would be home safely at the end of a shift and missing out on holidays, birthdays and sporting events began to wear on him.
"My wife and I got talking and we asked, 'Do we want to be like this the rest of our life?' " he said. "So the decision was made that one of us would go back to school. I had more college credits, plus Trine gave me credit for life experience."
Shortly after that, the Cass County Sheriff's Department sent him to do instructional development. He started instructing other police officers in the Strategic Techniques Of Patrol Stops (STOPS) and discovered he liked being in a teaching environment.
"That was where the bug bit me," he said.
He began putting out feelers about possible teaching positions and found out the criminal justice instructor position was expected to come open at Century Career Center in a few years. It eventually opened up sooner than Shannon expected, and after 16 years as a deputy sheriff, Shannon turned in his badge for a classroom.
"It was an opportunity as a family we could not say no to," he said.
In his new position, he teaches about 50 students in three classes. While some are interested in being local police officers, others are looking at becoming military police, conservation officers or lawyers.
In Criminal Justice I he introduces students to basics such as fingerprinting, the Constitution and the foundations of the criminal justice system.
"Criminal Justice II is more hands-on crime scene investigation," he said.
Although his current job doesn't require a bachelor's degree, Shannon said he would not have got the position if he hadn't continued his education and taken advantage of Trine University's support services, including resume preparation.
"My studies at Trine influenced me to step out of my box — the confidence Trine gave me on top of the lessons that I've learned," he said. "I took advantage of the support services that Trine offers and am reaping the benefits. I wouldn't be where I am without Trine University."
Once he completes his bachelor's he will be able to teach more dual-credit classes, allowing his students to earn credit toward a college degree. In June he will begin Trine's Master of Science with a Major in Criminal Justice program.
"Once I finish my master's, we will be able to go after four-year degree schools and add more dual-credit opportunities for the kids," he said.