Trine alum takes study abroad passion to Texas Tech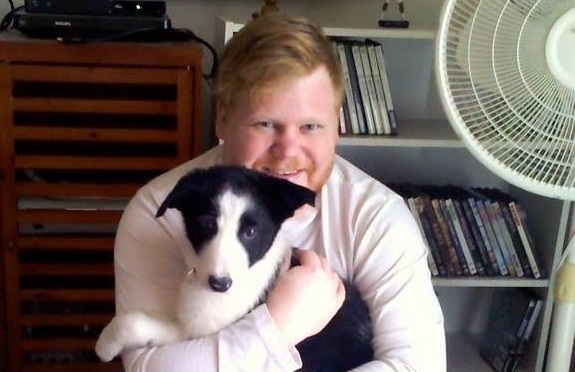 LUBBOCK, Texas — Padraig Murphy didn't expect that his puppy would play a part in landing his dream job.
Murphy, BSPSY 2015, recently began as senior study abroad advisor in the Office of International Affairs at Texas Tech University in Lubbock, Texas.
He found the opening during an online search and was interviewed via Skype. Not long after, he was asked to do a second interview. The Trine University campus didn't have any available conference rooms at the time, so he conducted the interview from his apartment.
"I had recently adopted a new puppy and he got all excited when I started talking to the staff at Texas Tech," Murphy said. "He was making a lot of noise so I apologized right away. The staff at Texas Tech was so understanding and even asked to see him so I pointed the webcam in his direction. I know it wasn't the deciding factor in their decision, but I'd like to think (and I'm sure my dog Ghost would try to tell you as well) that he had some part in my hiring."
Whatever part Ghost played in the process, Murphy was able to secure a position that allows him to use his longtime passion for travel in a setting that resonates with his love of college football.
"I remembered watching Texas Tech football on TV growing up, specifically the days of Graham Harrell and Michael Crabtree," he said. "I remembered how amazing I thought it would be to be a part of the passionate atmosphere their fans portrayed."
As senior advisor, Murphy assists students with learning about study abroad and then helps them take part in international study opportunities. He also leads Pre-Departure Orientation and organizes provider visits.
"At Pre-Departure Orientation we basically make sure the student is prepared for as many aspects of their experience abroad as possible," he said. "With provider visits, I organize meetings with faculty/staff/students for any individual coming from an affiliate program or partner institution.
"Right now, I am in the process of getting assimilated to our Study Abroad Peer Advisors student organization, as I will be taking over the role of staff advisor next year. With my time as treasurer of Study Abroad Club at Trine, the staff at Texas Tech thought I would be a great fit as the staff advisor for SAPA."
Murphy said his interest in study abroad began at a very early age and was encouraged by his mother.
"In middle school I received a nomination to participate in People to People Student Ambassadors, a program started by Dwight D. Eisenhower to strengthen the communication and understanding between the U.S. and foreign countries," he said. "With People to People I traveled once to France, Switzerland, Austria and Italy. I traveled a second time to Australia and New Zealand.
"As I'm sure my friends and family would tell you, I grew exponentially as a person during my time traveling with People to People Student Ambassadors. These trips only strengthened my desire to participate in study abroad in college."
While at Trine, he participated in a study abroad experience in Australia. While there, he took classes at Bond University in Robina. He participated in university life and had time for sight-seeing, including the Great Barrier Reef, a rainforestation sanctuary, Gold Coast beaches and the Sydney Opera House.
He also served as assistant junior varsity coach on Trine's men's soccer team, which he said "allowed me to gain confidence in myself as a leader, and foster my critical thinking development."
From February to December 2015 he worked as an intern for Haseeb Kazi, Ph.D., director of study abroad at Trine. His internship duties included compiling a link of scholarships and grants available to students wishing to study abroad, redesigning the content on the study abroad webpage and hosting the study abroad table during campus events such as VIP Visit Day and SOAR.
"Originally, I was leaning toward academic advising as my desired career path, but after my internship under Dr. Kazi I opened up my prospective career list to include study abroad advising," he said.
In his new position, his goal is to help as many students as possible participate in an experience that helps them develop academically, professionally and personally. He hopes to refine Texas Tech's pre-departure orientation and improve the university's relationship with its partners.
"I have not decided yet whether I want to go back to school for my doctorate, but if I do I will probably do so with the aspirations of becoming a director of study abroad one day," he said.