Nedele honored by Trine as Woman of Distinction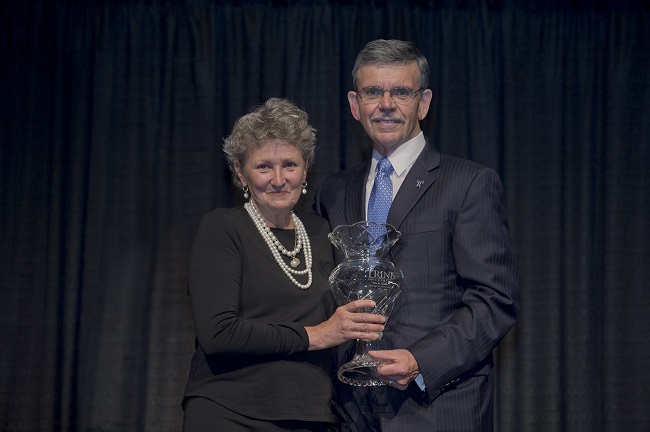 A lifetime Angola resident was honored with the Woman of Distinction Award from Trine University during its Touchstone and Homecoming Celebration Dinner on Friday, Sept. 30.
Rita Nedele received the award after more than 500 guests enjoyed a video presentation featuring images of Nedele during her lifetime.
"We are so proud and forever grateful that Rita has remained a loyal and supportive friend of her alma mater," said Earl D. Brooks II, Ph.D., Trine president. "We are inspired by her spirit, and her sincere and selfless heart. We are forever appreciative for all that Rita and (her husband) Chuck have done to further the success of Trine University."
Nedele graduated from Tri-State College in 1973 with a Bachelor of Science degree in general arts and science. She went on to be a physical education teacher at Angola High School, with later careers at Vestil Manufacturing and Fun Spot Amusement Park.
Rita and Chuck Nedele have supported Trine University through the years, including Thunder Athletics, the Trine Fund, Scholarship Golf Outings, the T. Furth Center for Performing Arts, the Books and Beyond Scholarship Program, and the Scholarship Gala, where Rita served on the planning committee for numerous years. In addition, the Nedeles support numerous organizations in the Angola community, especially the Steuben County Humane Society, where Rita serves on the board.
In addition, Rita has been instrumental in assisting Sheri Trine, a member of Trine University's Board of Trustees, with countless furnishing, beautification and improvement projects on Trine's campus, including: the Trine Welcome Center, Trine Villas, Ingledue Villas, the Trine Guest Cottage, Sponsel Administration building, the Rick L. and Vicki L. James University Center, numerous dorm lobbies, Zollner Athletic Football Stadium and hospitality suites, fraternity and sorority houses, the Witmer Clubhouse and the Thunder Gear store.
The Woman of Distinction Award was first given in 2006 to honor Marjorie Bowstrom, a Tri-State University trustee. The award recognizes the powerful contributions of women in the areas of philanthropy, business and education, and is presented annually to a woman judged by the university to mirror the attributes represented by Bowstrom. It signifies the university's high regard for the lofty achievements of today's female leaders.