Trine mourns passing of Ketner, 95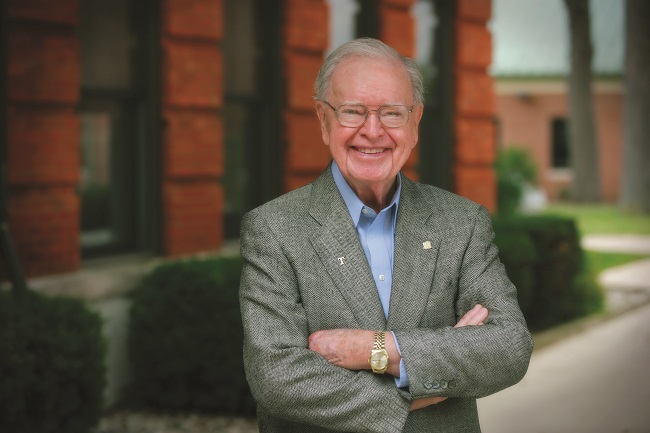 Trine University is mourning the loss of prominent alumnus Dr. Ralph W. Ketner, who died Sunday afternoon at the age of 95 at his home in Salisbury, North Carolina.
"We mourn Dr. Ketner's passing but celebrate his tenacity, dedication and success over a life well-lived," said Dr. Earl D. Brooks II, Trine University president. "We also are grateful for his continued generosity to Trine University and other institutions of higher learning. Dr. Ketner was a shining example for Trine University students and for all of us, showing us what it takes to reach the pinnacle of a profession, and how to use the fruits of one's achievements to benefit others."
The Salisbury Post reports Dr. Ketner had been diagnosed with colon cancer earlier this year.
Born Sept. 20, 1920, in North Carolina, Dr. Ketner was one of seven children. His parents both died during the Great Depression, and he came to Trine, then Tri-State College, in 1937, graduating with a degree in accounting in 1939.
In 1957, he co-founded Food Town, later to become Food Lion, a successful 1,300-store grocery chain in the mid-Atlantic and southeast United States.
Dr. Ketner was an ongoing benefactor of Trine University's Ketner School of Business, which is named in his honor. In December he donated $1 million to the Ketner School of Business Endowment Fund, in addition to nearly $2 million he had given previously to endow a chair and establish the endowment fund in the school, and a $500,000 gift to the school in 2009. The Ketner Sports Center in Hershey Hall is also named in his honor.
He served as Tri–State University′s commencement speaker in 1982, when he received an honorary doctorate, and received Trine University's highest honor, the Pillar of Success Award, in 2005. The award recognizes individuals for their achievements and accomplishments, leadership, service, philanthropy, commitment to their community and Trine University.
He also opened the Trine University's Distinguished Speaker Series during the 2009-2010 school year.
Following his retirement from Food Lion in 1991, Dr. Ketner served as a consultant to the business school at Catawba College in Salisbury, N.C.
Services will be held at 2:30 p.m. Sunday on the Catawba College campus.