Sheets receives Sagamore of the Wabash in ceremony at Trine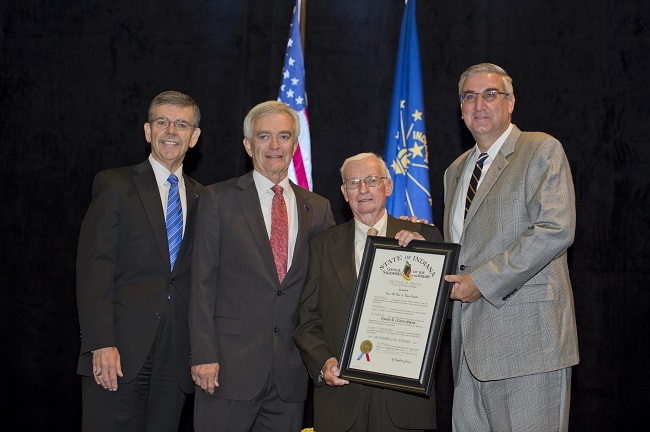 Longtime friend and supporter of Trine University Charles R. (Chuck) Sheets of Angola was presented the Sagamore of the Wabash by Lt. Gov. Eric Holcomb on Tuesday, Sept. 13. The presentation was made at Trine prior to Holcomb speaking as part of its Distinguished Speaker Series.
Prior to bestowing the honor, Holcomb lauded Sheets as "an individual who has done not only so much for Steuben County, but really for the state of Indiana at large … a man whose distinguished career in business is matched by his incredible example for so many to follow in in terms of his philanthropic commitments to his neighbors."
The successful owner of Sheets LP Gas and a real estate developer, Sheets was one of the founders of the YMCA of Steuben County and a founding board member of the Steuben County Community Foundation. Earlier this year, his family donated more than 4 acres of land to the YMCA.
Sheets established the Harcourt & Elsta Sheets Scholarship at Trine University in memory of his parents and has supported the T. Furth Center for Performing Arts, the Humanities Institute and Trine's general scholarship fund. He also has responded to unique opportunities such as contributing top soil for capital projects.
"It is an honor and I just can't say how much I appreciate it," Sheets said after receiving the award. Reflecting on his 87 years in Steuben County, Sheets said, "I've seen many, many changes and a lot of wonderful people moving into our community. It certainly is great to live here in our county."
The Sagamore of the Wabash award, created during the term of Indiana Gov. Ralph Gates, is the highest honor the governor of Indiana bestows. The term "sagamore" was used by the American Indian tribes of the northeastern United States to describe a lesser chief or a great man among the tribe to whom the true chief would look for wisdom and advice. It is a personal tribute usually given to those who have rendered a distinguished service to the state or to the governor. Among these who have received Sagamores have been astronauts, presidents, ambassadors, artists, musicians, politicians, and ordinary citizens who have contributed greatly to Hoosier heritage.