Student volunteers in Malawi during summer trip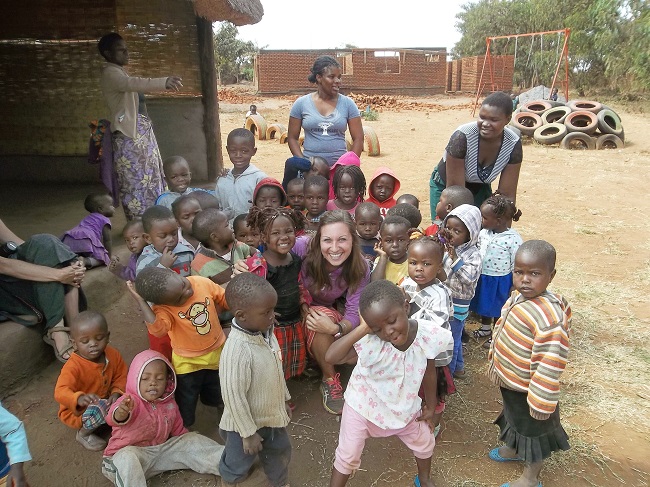 As Kaitlyn Swick stood in the opposite side of the world from home, looking at 50 smiling children in tattered clothing, one thought went through her mind:
"This was real life."
Swick, a senior elementary education major from Tekonsha, Michigan, was part of a group that traveled to Malawi, Africa, for two weeks in July to work a community of orphans through With Change In Mind. The organization creates short-term volunteer opportunities in the developing world, focusing on the environment, food security, improving infrastructure, education and health care.
"From all angles I had children grabbing at me and hugging me, though they had never seen me before," she said. "They wanted me to be next to them, along with the other ladies in my group. I tried taking it all in and looking every which way, but everywhere I looked I saw happy faces in such a poverty-stricken area. There was trash lying around, free-roaming animals, and women and men working hard to keep their family alive and well.
"Even if I just close my eyes I can see the children's faces looking up at me with the biggest eyes and smiles I have ever seen. I can see the families curiously looking at me, but appreciating that we were there. I can still see the trash laying on the ground that I so badly wanted to pick up, and the runny noses on almost every child I just wanted to wipe."
The inspiration for the trip came from one of her classes taught by Anthony Kline, Ph.D., assistant professor in the Franks School of Education. Kline founded and directed the Malawi Field Experience while teaching at Ball State University, which allowed teacher candidates to work on literacy with orphans and provide training to Malawian teachers.
"I was fortunate to travel to Malawi four times, and still incorporate many of the stories and lessons learned into my classes I teach at Trine," Kline said.
"The stories and experiences stayed with me after class," Swick said. "For the next few weeks I began wondering about those children from the stories, and how different their culture was from ours. I knew children were adopted from this area and I began to wonder what would happen if they ended up in my classroom one day when I received my teaching job. What would I know about the area?"
Swick discussed the possibility more with Kline, who put her in touch With Change In Mind. She contacted Erin Hempen, the founder of With Change In Mind, and Sara Gregson, a former student of Kline's who is a board member with the organization.
The pair helped Swick plan to go on a trip and come up with ideas to raise funds to cover the costs. Among Swick's fundraisers were crowdsourcing on GoFundMe, a wine and canvas night and a golf outing with silent auction.
"People were so willing to help me," she said.
She left for Malawi on July 9. While there she worked with a group of four women at an orphan community called Adziwa, where about 60 children ages 1-5 who do not have parents are placed with someone in their family. With Change In Mind has worked with the day care/preschool for about five years, providing most of the food for the school and helping them organize a garden they have started to help the community.
"We worked at the school teaching the kids to learn to line up, colors, numbers and letters. We broke them up into smaller groups so it was easier to keep their attention," Swick said.
The group also helped the school's teacher, who is not certified, by sharing different ideas and teaching strategies with her.
Other duties included cooking food, washing dishes, preparing the children for snack, installing hand-washing stations and cleaning out the storage room and office.
"There were so many toys that needed to be thrown out due to being unhealthy and dirty. There were so many bugs crawling out of just about everything we picked up, it was just terrible," she said. "After we finished, the workers had a place where they stored the toys and manipulatives for teaching, where everything had its place, and they had their office back."
Swick said she had to adapt to developing-world conditions, including having to shower outdoors – not always with hot water – and doing without flushing toilets and faucets with running water.
"At first you just felt dirty all the time, but after a few days you realized it was just part of the process," she said.
The trip ended with some tourist experiences, including a safari, before the group prepared to leave Adziwa.
"It was the most difficult thing to do, say goodbye to some of the nicest people I had ever met," Swick said.
Swick said one of the children who will remain in her memory was a little boy named Alex, who would take her hand during the group's 2.5-mile walk to the school from where they were staying.
"He wanted 'sweeties' each day, which is candy, but we did not hand those out until the last day," she said. "This young boy was so polite. He spoke very little English, but something just made me want to check in on him each day. I could tell in his eyes that he was sick, but I never let that change the way I acted toward him. I just hope if I go back, I see his face again and it's healthy."
Her time in Malawi gave Swick an understanding of why the county is referred to as "The Warm Heart," Swick said.
"I have never in my years been to a place with so much love and so much kindness," she said. "For a village that has so little, for children who do not have parents, or even clean clothes, you will not find a child that is not smiling when you smile at them. I will remember the feeling of little hands grabbing mine and hearing 'azungu' chanted by kids all around — it means 'white person,' but not in a discriminating way.
"My experiences were more than I asked for. I got far more out of the trip than I am able to put into words, or that I will ever be able to share with anyone. It is a place I think everyone needs to visit and no matter the cost, you will always get more out of it than you will expect or put in.
"I already want to visit The Warm Heart again."