Elementary students learn about college opportunities at Trine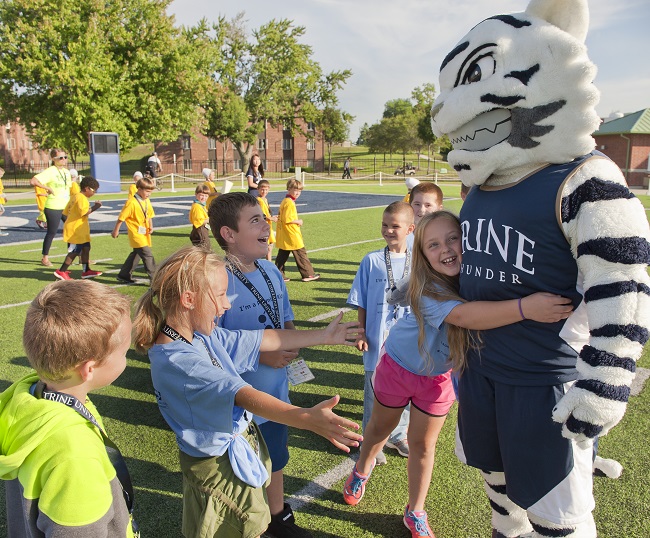 With Disney music playing from a football field public address system on a warm first day of the fall, about 1400 elementary school students from LaGrange and Steuben counties learned about some of the opportunities they have after high school.
The students were on Shive Field at Trine University on Thursday, Sept. 22, for "Walk into My Future," an annual event through LaGrange County Promise and Steuben County Promise that introduces children to the idea of a college education. Second-graders from Westview Community Schools, Lakeland Community Schools and Prairie Heights Community Schools in LaGrange County participated in the morning, and first- through third-graders from the Metropolitan School District of Steuben County, Fremont Community Schools and Hamilton Community Schools were part of an afternoon session.
As Trine mascot Storm walked among the groups, students learned what causes a boat to float and built their own boat, learned how to count in other languages from international students at Trine, hit golf balls with instruction from golf management students and learned about entrepreneurship by trying to come up with their own invention and "sell" it to Trine students, among other activities.
Casey Weimer, director of Cole Center Family YMCA in Kendallville, said the hope is that through the activities at "Walk into My Future" and talking to Trine students, elementary students will be introduced to the idea of education after high school and get a taste of what college is like.
"Many kids never have an opportunity to be on a college campus and don't know what school looks like or feels like beyond what they're used to," said Weimer, whose organization coordinates LaGrange County Promise.
"College sometimes can be intimidating when you've never visited and or maybe you don't have the support or structure behind you to encourage you to visit a college campus," said Jessica Christen, office manager for the Steuben County Economic Development Corporation and part of Steuben County Promise. "We're hoping that students' memories of visiting Trine University will help take that intimidation away when they get older and encourage them to seek opportunities for themselves."
Krista Miller, CEO of the YMCA of Steuben County, which coordinates Steuben County Promise, agreed.
"We are encouraging kids to start thinking about college early in their life so that they have the hope and dreams to go on to do some kind of postsecondary education," Miller said.
Eva Merkel, superintendent of Lakeland Community Schools, said Walk into My Future not only gives students the opportunity to see that a college education is a possibility, but an opportunity close to home.
"This is just a great way to have students, maybe for the first time, set foot on a college campus and know that it's an opportunity locally and see what is a possibility for their future," said Merkel, who attended the event with Lakeland students.
"I actually just hugged one of our former students who's on campus as a student. A lot of students see this as an opportunity to stay close to home, but get a quality education. It's another way to say you don't have to go far away to continue your education. Trine has been a great partner to provide that for our students."
Amy Heavin, principal at Ryan Park Elementary School in Angola, said students who had previously participated in the program were excited to return.
"What I have seen already today is our kids are super pumped about the activities that they're doing, the interactions that they're having and what they're learning," Heavin said. "This a wonderful opportunity for the community to come to Trine. Trine has opened their doors to our schools and our community and we get to see what they are all about and that is really exciting."
Barbara Wheeler, principal at Fremont Elementary School, said her school will follow up with activities related to Go College Week, promoted through the Indiana Commission for Higher Education.
"For a lot of our kids it's a time for families to have that discussion and to start planning and saving for college," Wheeler said.
Weimer said other components of the LaGrange County Promise initiative include helping students start CollegeChoice 529 savings accounts, conducting classroom activities that encourage students to think about their future, and asking students to find "champions" in their life to contribute to their 529 accounts.
"One of the tenets of the YMCA is youth development, and we see preparing kids for the future and making sure that they have some hope and desire as an integral part of youth development that matches up with our mission perfectly," Weimer said.
Miller said Steuben County Promise has been active at area school enrollment nights, "trying to get parents educated on the importance of this program, and getting their kids signed up for a 529 account."
She said Parkview Health will deposit $25 in accounts for students who sign up for 529 accounts through Steuben County Promise, and the Steuben County Community Foundation will give a $75 community matching grant to students who raise $25 for their 529 accounts during a "champion period."
"Walk into My Future" is part of the Promise Indiana initiative launched in 2013 that now incorporates a number of Indiana counties. The initiative starts the conversation in kindergarten about post-secondary education and careers, so from an early age students learn what is possible for the future.