Romney gives grads 7 keys to happiness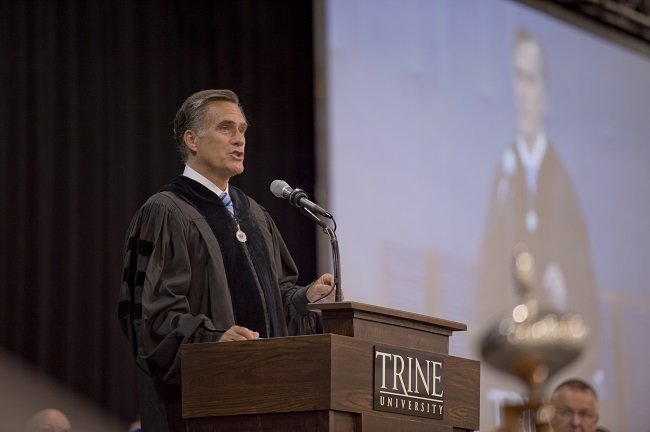 Former Massachusetts Governor Mitt Romney, the 2012 Republican candidate for president, encouraged Trine University's Class of 2016 to value friends, family and a greater purpose as he addressed the graduates May 7.
More than 5,000 people attending Trine's 131st commencement ceremony in the Keith E. Busse/Steel Dynamics Inc. Athletic and Recreation Center heard the National Anthem sung by Elyse Buehrer, a member of the Class of 2016 and the first Trine University student to graduate with a major in music.
Trine University President Earl D. Brooks II, Ph.D., welcomed the graduates by saying, "The word 'commencement' means a beginning. You've achieved a significant new beginning, and that alone is cause for celebration today. … I hope you hold on to the new beginning and I hope you will remember this day and Trine University as you travel your new path."
Romney began his address by congratulating the graduates, families and others in attendance and joked, "I'm happy to give any address that isn't a concession speech."
Borrowing from Brigham Young University classmate Steven R. Covey's "The 7 Habits of Highly Effective People," Romney titled his address "The 7 Habits of Highly Happy People" and offered the following pieces of advice to the graduating class:
Keep hold of your friends.
"The most valuable thing you may get from your years at Trine may be the friends you made here," Romney said. "My close college and graduate school friends and I share milestones together, we celebrate accomplishments and mourn losses. We've helped each other in our careers."
Make a family.
Calling marriage "the single most rewarding part of my life, by far," Romney said, "Marriage involves passion, conflict, emotion, fear, hope, compromise, understanding — in short, it is living life to the fullest. Of course, some of you may choose to be single all your lives, and others may never find your soul mate, and I wouldn't suggest you settle. But for those who are thinking about marriage someday and who find a person they love, my witness is that it makes all the difference in the world."
Do your present job well.
"Don't complain and gripe, don't just try to get by," he said. "Dig in, learn everything you can about the business and its industry. Be worth more than what you're getting paid."
Don't swallow a hook.
"There are things that look good at first, but impale you and prevent escape. And they can ruin your happiness," said Romney, warning against such vices as drugs and pornography. "Stay away from hooks, and if you've already swallowed one, do whatever it takes to get free of it."
Take responsibility.
Romney cautioned that "blaming others prevents you from taking control and changing the outcome. Taking responsibility puts you in charge, puts you in control. Take responsibility so that you can guide the course of your life."
Live for something larger than yourself.
"If you live your life exclusively for yourself, it will be shallow and disappointing," Romney said. "Live for something greater: for your family, your faith, your country, your university, or perhaps for some cause political, social or religious. With a real purpose in your life, life is a great deal more fulfilling and will bring you a great deal more joy and happiness."
Be careful what you wish for.
Romney told the story of a 60-year-old man who, upon finding a magic lamp, wished his wife was 30 years younger than him — only to find himself changed into a 90-year-old.
"I don't know that there's anything wrong with hoping you will make lots of money, or rise to the top of a corporate pyramid, or start a blockbuster company, or have your research published and acclaimed," he said, "but what I do know is that if that's all your life is about, you probably won't find the success you seek."
In closing, Romney said, "Friends, family, a purpose greater than yourself, and ambitions with meaning: Choose this course and your life can be fulfilling and happy. Choose this course and the fabric of our society is strengthened, which is desperately needed today."
He warned that "We live in tumultuous times. Demagogues on the right and the left draw upon our darker angels, scapegoating immigrants and Muslims or bankers and business people. Profiteers tempt and endeavor to hook us with compulsive addictions. Entertainment media distracts us from the things that bring enduring achievements and happiness.
"Think carefully about the habits of your life. You deserve to be happy, and America deserves your wise choices."
After his address, the university presented Romney with the honorary Doctor of Humane Letters degree.
Following the presentation of degrees to about 500 graduates — of about 650 who were eligible — Dustin Arvola, the 2016 Robert B. Stewart award winner, challenged his classmates to "have the courage to dream, to take a chance. Don't settle for being normal and don't be afraid to make mistakes."
In closing remarks, Brooks offered similar advice, telling the graduates, "You're now faced with the awesome responsibility of making the choices that will determine the person you are to become. Make those choices wisely."
Trine University Commencement
News coverage: Many national news outlets made mention of Mitt Romney's remarks at Trine University's Commencement ceremony. Among them:
CNN: http://www.cnn.com/2016/05/07/politics/mitt-romney-demagogues-donald-trump/
The Week: http://theweek.com/speedreads/623206/mitt-romney-warns-against-unnamed-demagogues-commencement-speech
Daily Mail: http://www.dailymail.co.uk/news/article-3580401/Our-darker-angels-Mitt-Romney-warns-Donald-Trump-Bernie-Sanders-demagogues-scapegoat-immigrants-rich.html
The Hill: http://thehill.com/blogs/ballot-box/279121-romney-slams-demagogues-in-commencement-address