No slowing down: '63 alum continues to excel at sports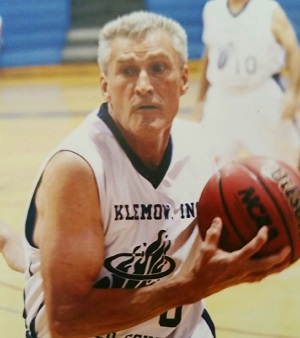 TUCSON, Ariz. — For Larry Armstrong 1963 BSME, staying active as a middle- to senior-age adult has meant much more than shuffleboard or bingo.
For the past 25 years, Armstrong has competed and coached in Senior Olympics and masters sports, earning multiple gold medals nationally and internationally in track and field, baseball and basketball.
"At age 75 I'm playing basketball with 18- to 20-year-olds," he said. "I'm fortunate to still be able to do this."
He began playing organized basketball, which remains his favorite sport, at age 12, but found he excelled in other sports he tried as well.
"Everything I took up," he said. "I guess I had the right genes."
When he arrived at Tri-State College he tried out for basketball, but fell short of the varsity team and found he didn't have the time to play college ball and keep up with his classes. An intercollegiate track and field team was still about 10 years in Tri-State's future, so Armstrong participated on the college's club team.
He also didn't want to give up basketball, so when TSC wasn't in session, he played for a team in the Albion (Michigan) City Industrial League while he worked for Dow Corning. That team eventually won a state championship.
After graduating from Tri-State he continued to play basketball in YMCA and church leagues, while working in industry and eventually owning several businesses.
"I played everywhere I moved," he said.
By age 50, he was living in Arizona and discovered an active community of masters and Senior Olympic athletes.
"People train here year-round because the weather is good," he said. "When I went to the first event I saw that I could compete."
He has excelled in competitions that have taken him around the world. He competed in the 2005 World Masters Games in San Sebastian, Spain, finishing fifth in the world for the high jump, ninth for the pole vault and serving as an alternate for the 4x100 relay team, which set a world record in masters track.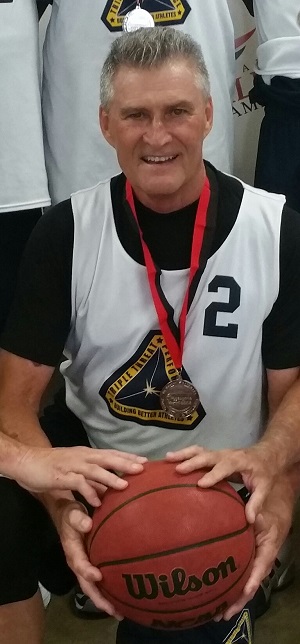 He has participated at the biennial U.S. National Senior Olympics over the last 15 years and has made trips to Eugene, Oregon, which hosts the U.S. Olympic track and field trials, every year for 10 years to compete in a variety of events, including the Prefontaine Classic.
"It's an international climate with good friends," he said. "I've made friends from all over the world."
Other highlights have included playing baseball in the Masters World Series in Phoenix, competing at the Indoor Track and Field Nationals in Boston and competing against Dick Fosbury, 1968 Olympic gold medalist in the high jump, at the Nike World Challenge.
"I got a lot of medals. Not any gold at the international level, but I came close," he said. "I'm also fortunate to have a wife who went along and supported my activities."
In addition to his own athletic competitions, Armstrong has served as coach at the junior high and high school level for his daughters' — and later his grandchildren's — basketball and track and field teams.
Armstrong plans to retire soon from his home-building business in Tucson, Arizona, but shows no other signs of slowing down. He says his love of sports has kept him competing at a high level through the years.
"When you gain respect in your own sport, it makes you feel good," he said.