Trine Chem-E Car team 6th at international competition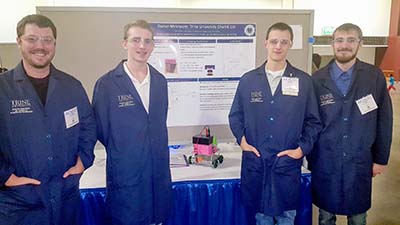 MINNEAPOLIS — A team of Trine University chemical engineering students placed sixth at an international competition to build a car that starts and stops using only chemical reactions.
Forty-one colleges from around the world competed in the 19th Annual Chem-E-Car Competition, held the weekend of Oct. 28 in conjunction with the American Institute of Chemical Engineers (AIChE) annual meeting in Minneapolis.
Trine's team — consisting of Jedidiah Bowen, a senior from Hamilton, Indiana; Daniel Barzycki, a senior from Hebron, Indiana; Roger Chase, a junior from Fort Wayne, Indiana; and Ryan Kosek, a junior from South Bend, Indiana — qualified for the national competition after placing at regional competition in Chicago in the spring. It marks the second year in a row the Chem-E Car team from Trine has qualified for national competition.
"Many of the other schools competing have been working on their cars for more than five years, but Trine has put together a highly competitive car with under two years of experience," said Amanda P. Malefyt, Ph.D., associate professor and chair of the McKetta Department of Chemical & Bioprocess Engineering at Trine University. "We are extremely proud of the team's performance in the national competition and delighted for such a high finish."
Teams had to design the car to travel between 15 and 30 meters and carry a load of 0 to 500 grams of water, with the exact distance and load not specified until during the actual competition. Power and stopping mechanisms had to be students' own original design.
Students created cars using a variety of materials and fueling methods. One hour before the competition, the students were told the amount of water their cars had to carry and the distance the cars had to travel. This year, the cars had to carry 157 milliliters of water a distance of 23.5 meters.
The students then quickly calculated the appropriate chemical reaction. They were given two attempts to propel the cars as close as possible to the finish line.
The Trine team finished their best run 23 centimeters away from the target to earn the university's highest finish in national competition. The team was successful despite having to improvise after leaving a key component for their car back in the lab at Trine.
"They scoured the local Target and CVS to find a 'MacGyver'-type replacement the night before the competition so they could compete," Malefyt said. "They ended up using a make-up concealer bottle as a replacement cuvette for their stopping mechanism. It was an impressive comeback and a great teamwork and problem-solving experience."
Institut Teknologi Sepuluh Nopember from Indonesia took home the $2,000 first prize, sponsored by Chevron.
The Trine team's introductory video from the competition is available on YouTube.
Photos: Top, the Trine University Chem-E Car team of Jed Bowen (left, kneeling), Daniel Barzycki (right, kneeling), Roger Chase (standing, second from left) and Ryan Kosek (standing, fourth from left) prepare to set their entry in motion at the 19th Annual Chem-E Car Competition in Minneapolis. Bottom, the Trine University Chem-E Car team: from left, Jed Bowen, Ryan Kosek, Roger Chase and Daniel Barzycki.