Boman named collegiate foreign language Teacher of the Year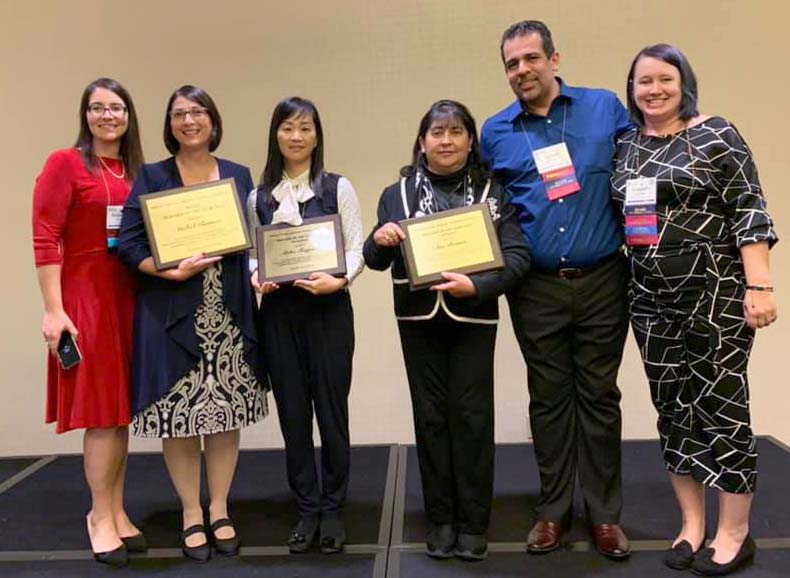 INDIANAPOLIS — Trine University Spanish lecturer Ana Boman went to Indianapolis thinking she was going to be presented an award.
Instead, she received two.
Already at the Sheraton Hotel Indianapolis on Nov. 2 to be honored with the 2019 Indiana Outstanding Spanish Teacher of the Year award for the university category of the American Association of Teachers of Spanish and Portuguese (AATSP), Boman was additionally honored with the 2019 Indiana Foreign Language Teacher of the Year award by the Indiana Foreign Language Teachers Association (IFLTA) in its collegiate division. The two organizations hold meetings concurrently.
Boman said she was "unexpectedly surprised and honored" to receive the second award and credited the support of Earl D. Brooks II, Ph.D., Trine University president; John Shannon, Ph.D., vice president for academic affairs; Sarah Franzen, Ph.D., dean of the Jannen School of Arts and Sciences; and Jeanette Goddard, Ph.D., chair of the Department of Humanities and Communication.
"I am very appreciative of these awards, and I am very proud to represent our university in the field of foreign language teaching," she said. "I could not have done this without the leadership of Dr. Brooks, and the continuing support from Dr. Shannon, Dr. Franzen and Dr. Goddard. I also feel fortunate to educate our wonderful students."
The IFTLA award recognizes the top teacher from the state representing all foreign languages. IFTLA was formed in 1969 to serve teachers throughout the state of languages such as Spanish, French, German, Chinese, Japanese and Latin, both at the K-12 and collegiate levels.
Photo: IFLTA award recipients at the organization's conference on Nov. 2. From left, Amanda Beck, first vice president, IFLTA; Mabel Ramos, MSD Lawrence Township Schools, IFLTA Teacher of the Year, grades K-8; Akiko Tsugawa, Chesterton High School and Middle School, IFLTA Teacher of the Year, secondary; Ana Boman, Trine University, IFLTA Teacher of the Year, collegiate; Israel Herrera, president, IFLTA; and Megan Worcester, secretary, IFLTA.