Nicholls honored with CCH Distinguished Faculty Award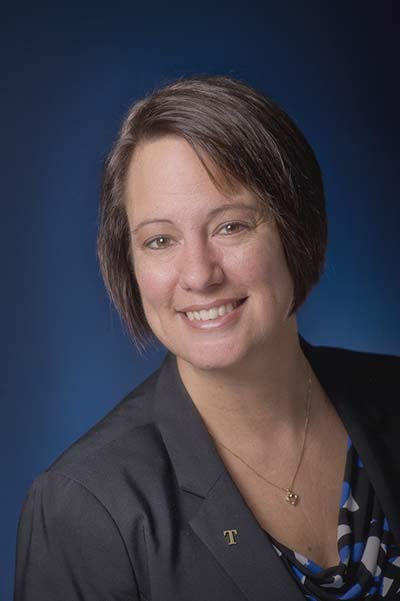 Trine University's Christian Campus House (CCH) honored Jannen School of Arts and Sciences Dean Amy Nicholls, who passed away Oct. 11 following an extended battle with cancer, with the organization's annual Distinguished Faculty Award.
The award was presented to Nicholls' family during the organization's 33rd annual banquet on Saturday, March 30. Family members included her husband Scott, son Mason, daughter Jocelynn, parents Dick and Linda Salyer and mother-in-law Betty Nicholls.
The Distinguished Faculty Award is voted on by senior class members of CCH.
"Dr. Nicholls was the kind of professor every student wishes they had, but few get the privilege," said Sonsee Jenkins, a communication major who graduated from Trine in December. "She taught us all so much more than what can be contained in four walls at a university, and we're changed for the better because we knew her."
A 1997 English education graduate of Tri-State University, now Trine, Nicholls served in several teaching roles before returning to campus in 2010. She served as an instructor, assistant professor, associate professor and chair in Trine's Department of Humanities and Communication before being named dean of the Jannen School of Arts and Sciences in 2016. Her honors as a faculty member included receiving the Jannen Renaissance Scholar Teaching Award and the Robert Andrew and Anne Ewing Smith Excellence in Teaching Award in Arts and Sciences.
"It is our honor to recognize the amazing impact Amy Nicholls had on the students of Trine University," said Travis Wilhelm, lead campus minister and university chaplain. "She was a dynamic teacher who cared deeply for the well-being of her students. This was obvious through the number of students who mourned her passing. Amy Nicholls exemplified the qualities of an outstanding professor, and CCH is grateful to recognize her as this year's recipient of the Distinguished Faculty Award."
CCH seeks to help Trine University better the student community as a whole by creating a ministry that serves their spiritual needs.
Top photo: From left, Travis Wilhelm, lead campus minister and university chaplain, Betty Nichols, Linda Salyer, Dick Salyer, Scott Nicholls, Jocelynn Nicholls and Sonsee Jenkins, Christian Campus House marketing and communications intern. Not pictured: Mason Nicholls.