13 participate in annual Civil Engineering senior trip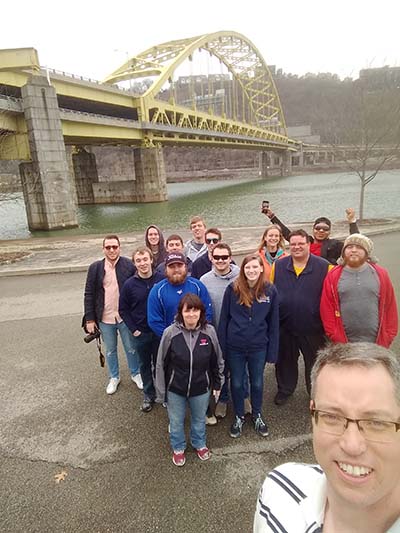 PITTSBURGH, Pa. — Thirteen seniors from Trine University's Reiners Department of Civil and Environmental Engineering, led by associate professors William Barry, Ph.D., and Gary Greene, Ph.D., traveled to Pittsburgh, Pennsylvania, March 28-30 for an annual trip to sites that highlight civil engineering.
The group visited Emsworth Lock and Dam, operated by the US Army Corps of Engineers with a mandate to maintain a navigable channel upstream on the Ohio River. Several students operated the lock gates, which allow ships to enter the lock, and one student operated the dam gates, which control the water level of the Ohio River for more than six miles upstream toward downtown Pittsburgh. During the visit, a coal barge came through the lock and students observed the entire process of lock operation.
"My favorite part of the trip was at the lock and dam," said Ben Bellestri of Clarkston, Michigan. "The lock operator took some of our students and actually put them at the controls of multimillion-dollar equipment. Also, when we were at the top of the dam, the operator had me open and close the dam, something I will probably never get to do again."
After the dam tour, they visited ALCOSAN, a wastewater treatment plant that treats 250 million gallons of wastewater every day in the greater Pittsburgh region. Students received an in-depth tour of the facility including the wet well, a 50-foot diameter, 10-story-deep pit that collects all of the wastewater from the Pittsburgh area. The rest of the facility contains bar screens, the grit chamber (the tank where organic solids settle and grease floats to the top and is removed), the activated sludge tanks where microorganisms digest the dissolved organic material and clean the water, and settling tanks.
On Saturday morning, the group walked along the waterfront in downtown Pittsburgh and visited seven bridges along the Monongahela and Allegany rivers. The bridges, built between the 1920s and the 1980s, have spans between 400 and 700 feet.
Seniors who went on the trip said it not only gave them the chance to expand their civil engineering knowledge, but gave them a "last hoorah" with friends before graduating.
"I have grown closer to my fellow students who also attended, and I look forward to working with them in the future," said Taylor Eash of Shipshewana, Indiana.
"I think this trip will help in my career because of the knowledge gained from it," said Bellestri. "The tour leaders were very insightful on problems the facilities ran into either during construction or during everyday operation. It showed that, as a young engineer, I must ask questions when working on a project and how to overcome difficulties that arise during the design process."