Trine ChemE Car team places 4th at regionals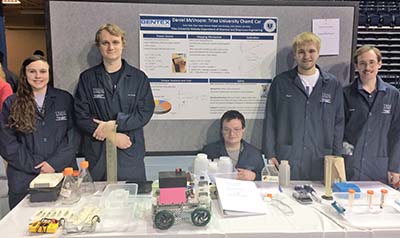 TOLEDO, Ohio — A Trine University team tasked with designing a car that can start and stop using only chemical reactions placed fourth in regional competition on April 13, qualifying for the national level.
The annual ChemE Car competition, which included 20 teams with the top five qualifying for nationals, was part of the American Institute of Chemical Engineers (AIChE) Regional Student Conference hosted by the University of Toledo.
Trine team members included chemical engineering majors Shannon Padgett, a senior from Lebanon, Indiana; Joel Galloy, a junior from Glenwood, Illinois; Nate Buening, a junior from Glenwood, Illinois; Aaron Rode, a sophomore from Custar, Ohio; James Dawson, a sophomore from Bloomington, Indiana; and alternate Ethan Caesar, a sophomore from Warrenville, Illinois.
In the ChemE Car competitions, teams design a car to travel between 15 and 30 meters and carry a load of 0 to 500 grams of water. Power and stopping mechanisms must be students' own original design.
The exact distance and load are not specified until one hour before the actual event. Students then quickly calculate the appropriate chemical reaction and are given two attempts to propel the cars as close as possible to the finish line.
For the regional competition, the car had to carry 46 grams of water a distance of 22.2 meters. The Trine car stopped 2.77 meters from the target.
Teams from the Ohio State University placed first and second, but the university is only allowed to send one team to nationals. Michigan State University placed third.
The national competition will be held during the student portion of the AIChE Annual Conference, which will be held Nov. 8-11 in Orlando, Florida.
Photos: Top, the Trine ChemE Car team prepares to launch its car during regional competition at the University of Toledo. At right, from left, Trine University ChemE Car team members Shannon Padgett, Joel Galloy, Nate Buening, Aaron Rode and James Dawson. Not pictured: Ethan Caesar, alternate.