Trine's Career Center expands offerings with Handshake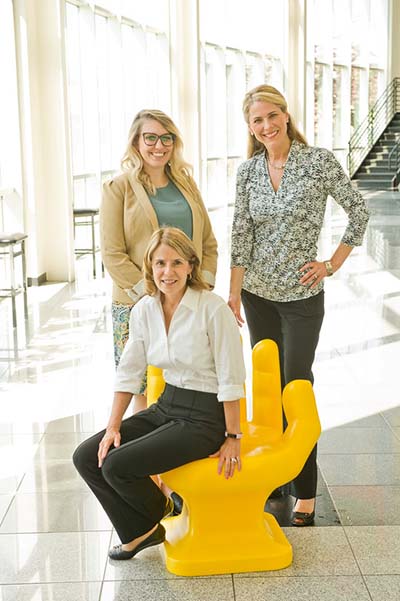 Trine University will provide a new platform for its students to connect with employers — and employers to connect with Trine students — beginning this fall.
The university's Career Center office now provides access to Federal Work Study, part-time jobs, internships, co-ops, full-time career opportunities and career events through Handshake, a service that connects them with employers nationwide as well as throughout northeast Indiana.
Handshake enhances Trine's already robust career services offerings for students. Trine's Class of 2018 reported 99.7 percent of its members employed or in graduate school within six months of graduation.
"Many of the employers we work with tell us they are already using Handshake," said Linda Cooper, employment specialist with Trine's Career Center. "They are excited to have a new, convenient avenue for connecting with our students."
Trine students will automatically have a Handshake account created, which they can use to make an appointment with a career advisor, find career fairs, workshops and other events, and search and apply for internships and career opportunities.
"Every job posting on Handshake comes from a connection made by an employer or by the university, which means recruiters who post on Handshake want to hire specifically from Trine," said Cooper.
Once students log in to Handshake, they can receive a customized daily feed of career opportunities. Those who complete a professional profile can make it available to more than 300,000 employers who use the platform, including all of the Fortune 500 companies.
Area employers interested in learning about recruiting Trine students on Handshake can find out more at trine.edu/career-services.
Trine's Career Center already has several career events scheduled for this fall:
Part-time Job Fair, Aug. 21, 3:30-5 p.m., University Center mall
Career Bootcamp (including resume critiques), Sept. 11-12, 1-4 p.m., University Center mall
Mock Interviews, Sept. 12, 1-4 p.m., Fabiani Theatre
College of Engineering & Business Career Fair, Sept. 26, 1-4 p.m., University Center mall
Employers interested in participating in any of these events can contact one of Trine University's employment specialists at trine.edu/career-services/contact-us.aspx.
Trine University job placement rate based on 2018 Trine University Graduation Class Knowledge Rate of 83.4%, 308 of 368 main campus undergraduates responding. Compared to 2017 Graduation Class National Knowledge Rate of 64.5% from 549,664 total recorded.