Douglas Marshall's journey across America
By Anna Petersen
Communications '20
WARREN, Mich. - In the fall of 1980, Douglas Marshall set off on a bicycling trek that would change him forever.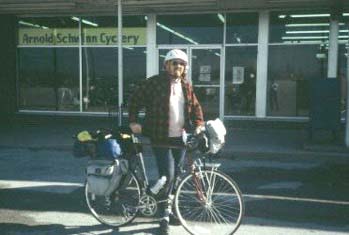 Douglas, who graduated from Trine in 1967 with his Bachelor of Science in business administration, left his hometown of Flint, Michigan, the day after his 35thbirthday, intending to bicycle all the way to Central America in hopes of "finding" himself. His plans later changed when he came across a group of individuals on a 14-month backpacking trip across the US.
On Thanksgiving Day, Douglas was cycling through Jonesboro, Arkansas. As he was watching TV in his hotel room, he saw a segment that mentioned a group of cross country hikers who were entering Arkansas that evening. According to Douglas, "I called the television station but the news department knew nothing of the group, as they were just running a piece supplied by one of their field reporters."
Days later in Little Rock, he saw an article about "Hik a Nation." After speaking with the news reporter, Douglas managed to get in contact with the coordinator.
"Tim Ernst, the Arkansas coordinator for Hik a Nation, called me. He spoke highly of the group and gave me a phone number where I could find out where the group would be on any particular day. I had [then] decided I would join this group," said Douglas.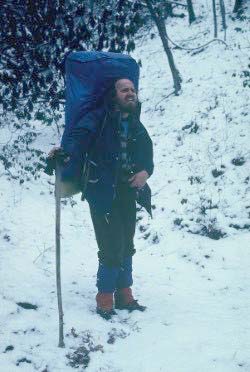 Hik a Nation was a group sponsored by the Department of Interior, the American Hiking Society and Postum instant Grain Beverage. This group was filled with diverse individuals ranging from ages 13 to 69. The purpose of this group was to not only promote hiking, but also to establish a trail from East to West, what we now know as the American Discovery Trail.
After contacting and updating his mother with the news, Douglas waited for two weeks for his mother to arrive with his winter backpacking gear and relieve him of his biking gear. He joined the group of hikers four days before the start of winter. He soon found out that the majority of walking was on back roads.
"The group would walk 100 miles out of route in order to walk 50 miles on trails" said Douglas. "It took me about 30 days to get to the place where the daily average of 13½ miles per day started to become easy."
The group typically would walk between 11 and 18 miles per day, carrying their backpacks. According to Douglas some were only about 45 pounds, but his was 72 pounds after adding his water for the day.
Although they did walk on many back roads, the group was able to experience parts of various trials such as the Current River trail and the Tom Sauk trail in Missouri, the Sheltowee Trace trail in Kentucky, the Appalachian Trail in Virginia, and the C&O tow path on their way to Washington, DC. Douglas said walking the Appalachian Trail in the spring was his favorite part.
"When we arrived in Washington DC we had a police escort down Pennsylvania Avenue to the White House and then the Washington Monument," he recalled. The group was even greeted by members of the U.S. House of Representatives and Senate.
Douglas and the group of hikers also had very unique holidays. Christmas was spent in the American Legion Hall of West Plains, Missouri; New Year's Eve was spent in the Current River National Forest.
Douglas stated, "When I started out on my bike that October day I knew I was searching for something. After finishing the hike at Cape Henlopen Delaware, I realized that I had been searching for myself. I do not know if it was on the bicycle going down the road at 12 miles per hour between Flint and Little Rock, Arkansas, or walking the nearly 2,000 miles from Yellville, Arkansas, to the Atlantic Ocean, but somewhere along the way I found myself."
Although this experience changed him forever, Douglas has yet to repeat it or attempt anything similar.
Today he serves as the director of the Reason Station in the Warren, Michigan, City Hall. The Reason Station is a protest against the violation of the First Amendment within Warren, Michigan. According to Douglas, its mission is to "promote the use of evidence, logic and reason to determine opinions and actions."