To Russia, with Love: Trine hockey players take their game to Siberia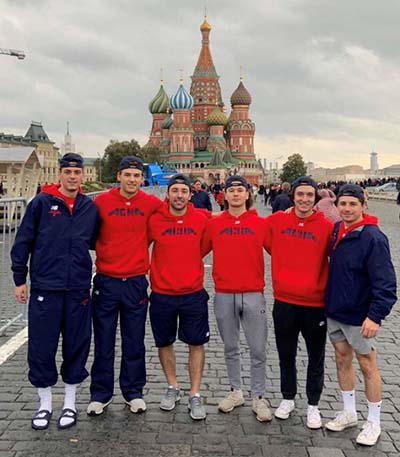 For four members of Trine University's ACHA D2 men's hockey team, playing in front of nearly 5,000 rowdy fans was an experience they will never forget.
Doing so in Siberia made it even more memorable.
Defensemen Nick Ludeman and Jake Hatten and forwards Joe Laskero and Christian Wirth-Karbler were part of the ACHA M2 Select Team that competed in the third annual Student Hockey Challenge, held Oct. 1-6 in Barnaul, Russia.
According to the ACHA website, the Student Hockey Challenge is designed to bring teams from Russia, Europe, Asia and the USA together to promote high-level ice hockey competition, cultural enrichment and international relations between students and staff from around the world. This year's challenge included the M2 Select team representing the United States, teams from the Czech Republic and Slovakia, and two teams from Russia.
Players in ACHA D2 last season could apply for the M2 Select team. The final roster of 22 was determined through evaluations and recommendations from ACHA D2 coaches, and observations by M2 Select staff at the ACHA D2 National Tournament and All-Star Challenge.
Those selected for the team were notified in early summer. The ensuing months, Wirth-Karbler said, included "a lot of paperwork, visa work, payments, scheduling and planning with the directors of the ACHA and my professors to coordinate things to run smoothly."
The team conducted a training camp in Albany, New York, about a month before they left for Russia.
"We practiced, met the team, met the coaches and kind of got some of our linemates," said Ludeman.
'Wow, I'm in Russia'
The group returned to Albany on Sept. 25 to practice and play an exhibition game against Stony Brook University. Accompanied by three coaches, a team doctor and the president and hockey operations director from ACHA, the team then left for Moscow on Sept. 29.
"When we first landed there, I was like, wow, I'm in Russia, halfway across the world," Ludeman said.
The weather when they arrived was cold and rainy. The players said Moscow had much less litter but more air pollution than large cities in the United States. Ludeman, who lives in suburban Washington, D.C., noted that Russian cities do not have suburbs.
"Everyone lives in the city," he said. "Apartment building after apartment building. You could tell which ones were newer compared to the older ones, but they were built to look the same."
The team visited the Red Square and the Kremlin. The Kremlin's flag was flying, meaning Russian President Vladimir Putin was in the building, Laskero said.
Most people they encountered did not smile or make eye contact, but were very respectful.
"Right away everyone was looking at us like they knew we were different, and American, but they treated us really great," said Hatten.
Ludeman said Russian food was not processed like typical American foods, and served in smaller portions. Team members drank bottled water, but obtaining it proved to be challenging when translators weren't handy.
"We couldn't read it, so half the time we were buying sparkling water when we just wanted bottled water," he recalled.
A hockey game like no other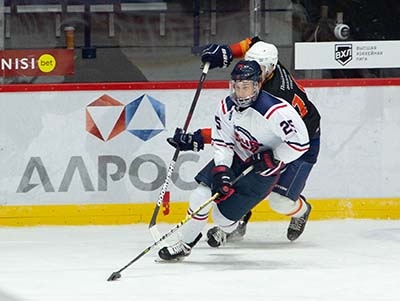 After a practice and stay in Moscow, the team headed to Barnaul in Siberia for the tournament. Their first opponent was defending champion Dinamo-Altai Barnaul.
The arena in Barnaul seated about 4,700 fans with standing room for more, and was packed every night of the tournament. The players said the environment was like nothing they had ever experienced.
"That was probably the most fun I've had in a hockey game," Ludeman said. "The atmosphere was live the whole game. It wasn't even for us, but the energy it brought, it was awesome."
"It was the best sports environment I have ever played in," Wirth-Karbler agreed.
The team struggled early on to make adjustments to their game, as M2 Select fell to Bartaul 3-2. Hockey in Russia uses a larger rink than in the U.S., and the players said the play is much less physical.
"The style of play is more focused on speed and spreading out the ice more and not really as much body contact throughout the game," Hatten said.
"It's more of a finesse style of play where everything is pretty, as opposed to in the US there's a lot of grinding to get a goal," Ludeman said. "They called a lot more penalties."
Celebrities in Barnaul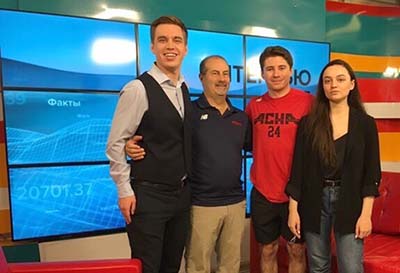 Though fiercely loyal to their home team, the people of Barnaul treated the visiting Americans like celebrities.
"It was like we were NHL players" Ludeman said. "Every time we went out, people were taking pictures with us and asking for autographs."
"Our last day we were in a restaurant, and there were probably about five of us with one of our translators and 10 people in the store with us," Laskero recalled. "Everyone was staring at us and we were about to leave when we were done eating, and one person had the guts to come up and asked for a picture, and after that one person did the rest of the store did."
The team finished 2-3 for the tournament and did not advance to the medal round. All the games were one-goal decisions with the exception of a 5-2 M2 Select victory over the Slovakian team.
"We could have won every game; it was just bounces," Ludeman said.
The team members returned to the U.S. on Oct. 7. In addition to the fans, the sights and the competition, players said they will remember the friendships they made with teammates.
"I came home with 20-plus new friends I'll share a once-in-a-lifetime experience with," said Wirth-Karbler.
They also will carry memories of the Russian people. Laskero recalled one Russian university student who replied, "I just want to be free," when asked what he wants to do after college.
"It's weird hearing someone actually say that," he said.
Top photo: From left, Trine University ACHA D2 players Nick Ludeman, Jake Hatten, Joe Laskero and Christian Wirth-Karbler at the rink in Barnaul, Russia, where the Student Hockey Challenge was held.
Top right: Members of the ACHA M2 Select Team pose near the iconic St. Basil's Cathedral in Moscow's Red Square. From left are Thomas Rama of Florida Gulf Coast University, Jake Hatten, Joe Laskero and Nick Ludeman of Trine University, Kyle Truax of Aquinas College, and Christian Wirth-Karbler of Trine University.
Video: Russian TV shows Christian Wirth-Karbler scoring during the Student Hockey Challenge.
Lower right: Jake Hatten from Trine University's ACHA D2 men's hockey team controls the puck against the UK Praha team from the Czech Republic.
Bottom right: Trine University ACHA D2 player Christian Wirth-Karbler, second from right, stands on the set of a Russian TV studio where he was interviewed about his play in the Student Hockey Challenge. Second from left is the team's coach, Fred Carpenito from Northeastern University in Boston, Massachusetts. At left is the program's host, and at right is a translator.