Trine team wins ITE District Traffic Bowl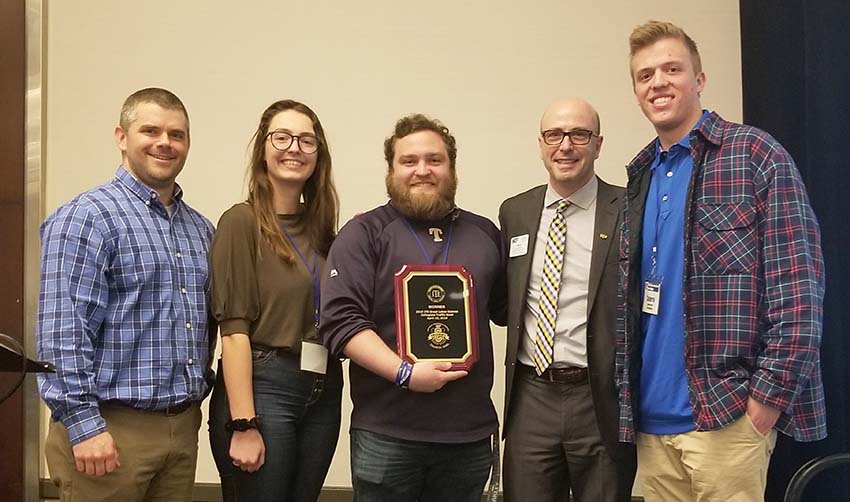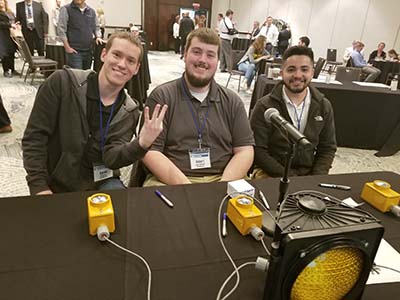 INDIANAPOLIS — A Trine University team took top honors at a district competition for the Institute of Transportation Engineers (ITE).
Trine University's student chapter sent two teams to compete in the ITE Great Lakes District Traffic Bowl Competition in Indianapolis on April 15.
Traffic Bowl is a "Jeopardy"-style competition that pits students from Trine University's Reiners Department of Civil and Environmental Engineering against other graduate and undergraduate students from universities in Indiana, Michigan, and Ohio.
A Trine team consisting of civil engineering seniors Ben Bellestri of Clarkston, Michigan, Morgan Sapara of Yorkton, Saskatchewan, and Cameron Horan of Osgood, Indiana, took first place in the competition. The win earned the team a spot in the Traffic Bowl Grand Championship in Austin, Texas, at the ITE's 2019 Joint International and Texas District Annual Meeting and Exhibit, July 21-24.
A second Trine team consisting of Aaron Burns of New Haven, Indiana, Rob Morehouse of Mentone, Indiana, and Mario Soto-Luna of LaGrange, Indiana, placed third in the competition.
Photos: Top, from left, Ryan Overton, Ph.D., faculty advisor for Trine University's Institute of Transportation Engineers (ITE) chapter; Morgan Sapara; Ben Bellestri; Bruce Belmore, international president of the ITE; and Cameron Horan. Right photo, from left, Aaron Burns, Rob Morehouse and Mario Soto-Luna.