Speaker at Trine's MLK celebration says stories hold the key to connection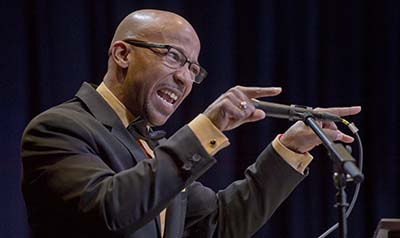 My skin is dark, much darker than yours,
But does that make me less of a man?
Your skin is light, much lighter than mine,
Maybe that's why you don't quite seem to understand.
Beginning with the poem opened by the stanza above, penned when he was 13 years old, Joe Martin, Ed.D., challenged those attending Trine University's annual Dr. Martin Luther King Jr./Black History Month celebration to learn the stories of those they meet in order to foster diversity and inclusion.
The 28th annual event, held Feb. 1, drew Trine students, faculty and staff along with community members to the T. Furth Center for Performing Arts to celebrate King's life and legacy.
Following a performance by the combined choirs of Angola High School, Angola Mayor Richard Hickman thanked the university and Trine's Multicultural Student Organization (MSO) for organizing the event. Referencing the record cold that had gripped the area the prior two days, he added, "While we're at it, I'm going to thank God that it warmed up a little bit."
"I know from my experience as a small-city mayor, just how important diversity and inclusion are within our city," Hickman said. "When we realize that we all want many of the same things in life, it allows us to be stronger individually and stronger as a community. It ends up allowing us to use our energies to work together instead of against each other, and I believe this is exactly what Dr. King wanted us to do."
A choir from Fort Wayne's Pilgrim Baptist Church then performed gospel selections before Andre Ebron, a 2004 Trine alumnus, former MSO president and speaker at the 2018 celebration, shared an excerpt from King's sermon, "The Drum Major Instinct," delivered Sunday, Feb. 4, 1968, at Atlanta's Ebenezer Baptist Church.
The Angola High School and Pilgrim Baptist choirs then combined to lead all those attending in singing "We Shall Overcome."
Mitch Kruse, Ph.D., host of the television program "The Restoration Road with Mitch Kruse," introduced Martin, an internationally renowned speaker, author and educational consultant who gave the keynote address.
"(Martin) grew up in Liberty City, where most young men become a statistic," said Kruse. "Raised by a 16-year-old mother, he learned how to survive on the streets. And God blessed him and gave him an education, and he excelled to the top of his field."
Martin said he wrote the poem as he was struggling to fit in at the newly integrated Thomas Jefferson Middle School in Miami, where he was teased for not relating to those who had their own rooms or conveniences such as a TV remote, and where he realized for the first time he was poor.
"At that time they wanted to make a push to have diversity, inclusion," Martin recalled. "But even though they were striving for diversity and inclusion, I couldn't understand why I was feeling so distant and excluded from everything. That's when I learned a very valuable lesson: that inclusion and diversity isn't about programs, it's about people."
In order to achieve King's dream of living in a nation where people are not judged by the color of their skin, but the content of their character, Martin said, "We have to look past color, culture, race, religion, gender, geography and even sexuality. I believe we have to look, listen and fall in love with each other's story."
In order to truly connect to another's story, Martin said, we have to know their secrets, struggles and scars, which he defined as "the things that happened to you that you have no control over."
To demonstrate how those who may appear different are connected by their scars, Martin read a list of negative life events — such as incarceration, disease or divorce — and asked those in attendance to tally how many they had experienced personally or been strongly impacted by. When he asked those who been impacted by up to five to stand, all in attendance rose.
When Martin asked those who had been impacted by 15 or more to remain standing, many in the audience — representing diverse genders, races and cultures — were still on their feet.
"How can I hate you if we have a similar path?" Martin asked. "You want to get past your differences, get to the story. And guess what: Nothing else matters after that."
The program closed with additional music by the Pilgrim Baptist Church choir.
Photos: Top, Debra Faye Williams-Robbins, minister of music at Fort Wayne's Pilgrim Baptist Church, directs the combined Angola High School and Pilgrim Baptist Church choirs in singing "We Shall Overcome" at Trine University's 28th annual Dr. Martin Luther King Jr./Black History Month celebration on Feb. 1. Right, Joe Martin, Ed.D., speaks during Trine University's 28th annual Dr. Martin Luther King Jr./Black History Month celebration on Feb. 1. Martin, an internationally renowned speaker, author and educational consultant, challenged those in attendance to promote diversity and inclusion by getting to know the stories of others. (Photos by Dean Orewiler)