Exercise science students help test Olympic hopefuls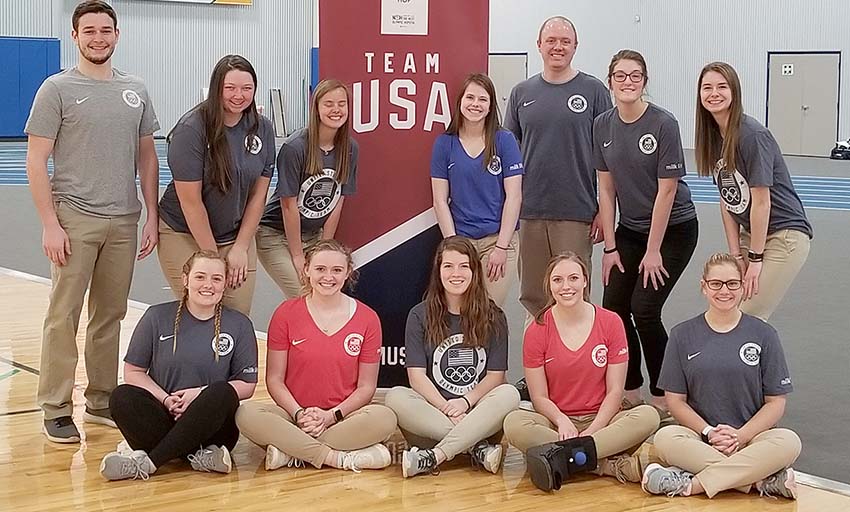 FORT WAYNE — There are many steps on the road to Olympic glory.
A group of Trine University students helped aspiring athletes take the first.
Eleven exercise science majors accompanied Shane Steele, DPT, chair and assistant professor of Trine's Department of Exercise Science, to the Next Olympic Hopeful, a talent transfer event held April 13 at the Turnstone Center in Fort Wayne. The group conducted field tests, analyzing about 20 athletes' movements and body mechanics to assess the effectiveness of their performance.
"We were the only university represented," said Steele.
Hannah Kardohely, a sophomore from West Salem, Ohio, said a United States Olympic Committee (USOC) official explained to the group that talent transfer events are a relatively new concept in the Olympic Games.
"It gives athletes a chance to advance their careers, just in a different sport or field that still plays to his or her strengths," she said.
"The idea is that if an athlete can show potential in certain areas, that can later be developed into sport-specific skills," said Jordan Stevens, a junior from Fort Wayne, Indiana. "For example, the combination of being able to sprint 30 meters in under 4 seconds and squatting a substantial amount could be indicative of potential talent in bobsledding."
The event, free to athletes 14 years of age and older, featured stations in vertical jump, 30-meter sprint, back squat, pull up, triple hop and standing broad jump. Natalie Grose, a junior from Fort Wayne, Indiana, said each athlete got three attempts in front of USOC officials.
"It was exciting to see what could be potential Olympic athletes working their hardest to achieve the best results possible," she said.
"It was incredible to see how hard the variety of athletes have worked and learn about the different backgrounds they've come from," said Madison Marsh, a junior from Coldwater, Michigan, who worked with the triple hop test. "It really opened my eyes and reassured me that a career in physical therapy is definitely meant for me. Seeing the drive in these athletes and understanding some of the injuries they've overcome to get here, I cannot wait to be able to help similar people heal and work toward their goals."
"I was able to apply many concepts that I had just learned in the classroom to these activities," said Sarah Dyson, a junior from Payne, Ohio, who worked at the pull up station. "It was really cool to see how these athletes had trained and then seeing their success firsthand. I felt like I was a part of their Olympic run and I hope to see them succeed throughout their careers."
Kardohely, a sprinter and hurdler in middle and high school, worked at the sprint station, helping athletes get set in the starting position and timing their trials. She said it took athletes about three hours to complete all the tests.
"Watching the form of the athletes as they accelerated down the track was interesting to me," she said. "I was surprised by the strength and speed of some of the smaller athletes, and the speed of larger athletes who had more muscle and weight to carry. It was really cool to see how supportive and positive the athletes were with each other and with us volunteers, even if they were nervous."
"The trainers gave us excellent advice as exercise science and pre-physical therapy students who may have the chance to work with higher-level athletes someday," said Grose. "I was grateful for the opportunity to volunteer at a unique event that offered a good amount of learning experience."
"This experience gave me a glimpse of what I will be doing as a physical therapist one day. Being able to work with patients and help them accomplish their goals is the best part of the job," said Stevens.
Other exercise science majors who participated included Stephen Nix, a sophomore from Leo, Indiana; Kennedy Kroeckel, a sophomore from Defiance, Ohio; Mackenzie Bristol, a sophomore from Waukesha, Wisconsin; Jenna Doumont, a sophomore from Burlington, Kentucky; Kylie Wolverton, a sophomore from Pendleton, Indiana; and Abby Moor, a freshman from Angola, Indiana. The Trine group became involved after representatives from Turnstone reached out to Max Baumgartner, Ph.D., dean of the Rinker-Ross School of Health Sciences, seeking help for the event.
The United States Olympic Committee developed the Next Olympic Hopeful, a talent search reality show, to improve the pipeline of athletes pursuing Olympic sports. The program invites athletes from backgrounds in all sports to apply and try out for a chance to become a member of Team USA in bobsled, skeleton, rugby, rowing, weight lifting or cycling.
"While athletes have the ability to measure themselves on these certain tasks on their own and upload their results online, 'The Next Olympic Hopeful' gives them the chance to meet Olympic personal trainers and coaches, and access to equipment and measuring tools they may not have access to at home," Grose said.
The pool of participants in the Next Olympic Hopeful is narrowed to 50 athletes who spend several days at the U.S. Olympic Training Center in Colorado Springs for screening and sport-specific training. Six winners then are invited to join national team camps, one for each of the participating sports.
Steele said the university is in communication with the USOC to provide future opportunities for Trine students to assist with testing.
Photo: Seated, from left, Kylie Wolverton, Sarah Dyson, Madison Marsh, Mackenzie Bristol, Abby Moor; standing, Stephen Nix, Jenna Doumont, Jordan Stevens, Kennedy Kroeckel, Shane Steele, DPT, Natalie Grose and Hannah Kardohely.