Indiana, not Africa or India, became Salim's home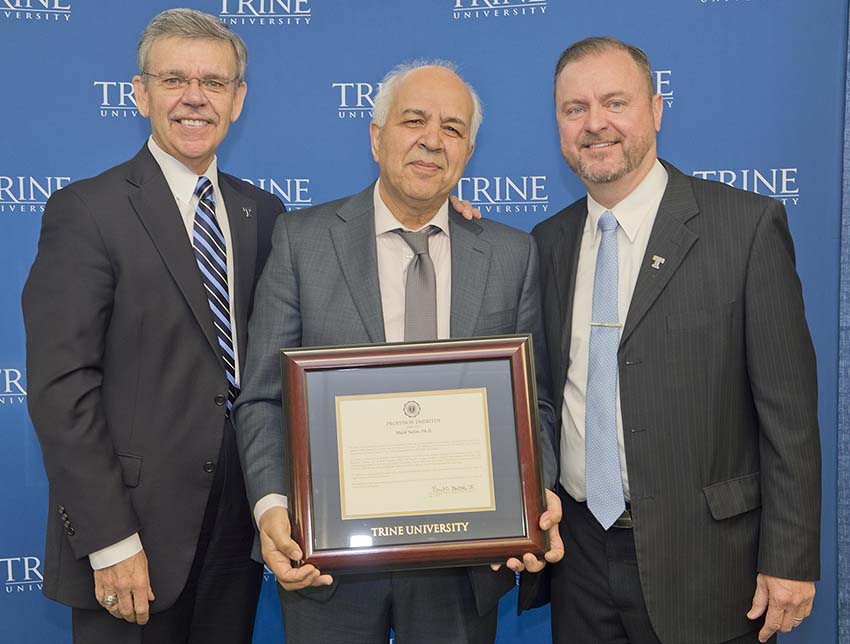 When Majid Salim's advisor for his Ph.D. program told him about a teaching opportunity in Angola, Salim told him he didn't want to go overseas.
"He said, 'No, Angola, Indiana,' and I said, 'I don't want to go to India,' " Salim recalled. "He said, 'Just a minute. It's not Africa. It's not India. It's in Indiana."
Salim was completing his program at Wayne State University in Detroit in 1984. Already teaching classes at Wayne State and nearby Highland Park Community College, he knew he wanted to continue teaching for a career.
He also enjoyed the lakes around Detroit, so the idea of living in a lake community appealed to him. An interview at Tri-State University confirmed it was the place for him.
"Not only did the university fit me, but the area was beautiful," he said.
Salim retired at the end of the spring semester after 35 years and was recognized with professor emeritus status. He wasn't surprised he stayed at Tri-State and Trine for so long.
"I knew that wherever I would go, I wasn't the type that would keep on jumping from one job to the other, because money wasn't the motivation for me," he said. "I'm the kind that if I make a little bit less money I'd rather go with a job I like."
He came to Tri-State as one of three full-time chemical engineering faculty, and immediately worked to build the culture of the department.
"I came here the first semester and I said, 'They have no activities for (the American Institute of Chemical Engineers),' " he said. "So right away I got a condo on the lake and in the spring I said, 'I'm going to invite my chemical engineering students over to my place and have a picnic.' "
Now held in the fall, the annual AIChE picnic continues to be a tradition at Trine.
"When alumni come, they always say they remember those picnics," he said.
One tradition, however, has not continued.
"In December, after the last week of classes, we used to go out and play football in the snow. We would make chili and hot dogs and things like that," he recalled. "But now that the faculty's getting older we don't play football."
He has seen many changes to the campus infrastructure since 1984, and said the student body today is much more diverse than when he arrived, with many more international students.
"The students are very special," he said. "Most of them are the first in their family to go to college, so I find they're more serious. They're here to study."
Though retired from full-time duties, Salim still plans to teach Polymers for a year or two in the fall, and travel to warmer climates in the winter. He also plans to volunteer at schools in Angola and Fremont, talking about science to middle school students, and to continue helping Trine's AIChE chapter.
"They still want to have me hold the picnic every year in August," he said. "I'm glad to do that."
Photo: Earl D. Brooks II, Ph.D., Trine University president, left, and John Shannon, Ph.D., vice president for academic affairs, right, present Majid Salim, Ph.D., with professor emeritus status at the Commencement Breakfast on May 4.