Brooks: Trine thriving despite challenges to higher education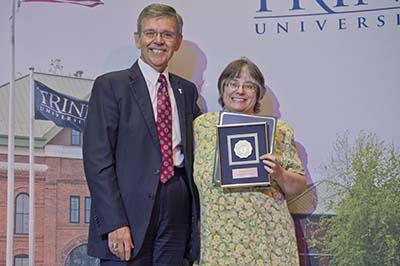 In an environment of increasing challenges for higher education institutions, Trine University continues to thrive and is well-positioned for the future, Trine President Earl D. Brooks II, Ph.D., said Monday, Aug. 12, in his annual state of the university address.
Speaking at the university's employee kickoff in advance of the fall semester, Brooks told faculty and staff Trine is at "one of the most successful periods in its history."
"It's not because of me," he continued, "it's because of everyone in this room and thousands of alumni and folks who can't be with us today that share in that success."
The university plans to welcome nearly 700 new students this fall for the third straight year, with the residential population rising by 5 percent and returning students increasing by 7 percent.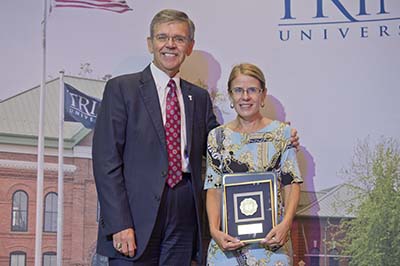 Brooks said Trine's growth comes despite obstacles faced by many colleges and universities, including:
Increasing discount rates and decreasing net revenue.
Declining numbers of high school students and declining birth rates.
Enhanced competition for the shrinking student pool.
Messaging that downplays the value of a college degree.
Increased competition for Pell grant dollars.
A thriving economy that encourages high school graduates to enter the job market.
Perception by many Americans that higher education is headed in the wrong direction.
"In spite of all this," Brooks said, "we have continued to buck the trend."
Looking back at the 2018-19 school year, Brooks highlighted the university's fundraising as key to its success, with the Invest in Excellence campaign now at nearly $111 million, 89 percent of the $125 million goal. That included a 99 percent giving rate for Trine employees.
"The national average for employee giving in higher education is 35 to 40 percent," he said. "I thank all of you for that incredible number and your participation."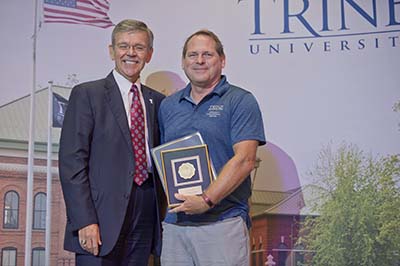 The year was solid financially for Trine, Brooks said, with the university exceeding its financial and cash flow goals. The university begins 2019-2020 with a $61 million dollar operating budget and a 5 percent projected cash flow.
The university also saw great success with its athletic teams, winning conference championships in several sports and advancing six teams to national tournaments. Trine academic teams also performed well in criminal justice, civil engineering and chemical engineering competitions, the Franks School of Education celebrated its sixth straight year of 100 percent employment for graduates, and 97 percent of Trine's Doctor of Physical Therapy students passed their board of registry examinations.
Brooks said the university has several goals for the upcoming year:
Carry out new initiatives such as Trine: 2.0, an institution-wide effort to clarify and advance the Trine University brand; the Center for Sports Studies; and revamped general education requirements.
Continue to strengthen its financial position.
Maintain a healthy operating margin.
Control costs and control expenses.
Grow and build on program strengths and successes.
Increase fundraising and the endowment to reduce the tuition burden on students.
"Together, we have built something very special here, but we still have a lot of work to do," he said. "I love our position, but we need to keep our eyes wide open, we need continue to be responsive to needs, we need to keep an entrepreneurial mindset, we need to continue to be creative and even further differentiate Trine University away from the pack.
During the kickoff program, the university also recognized employees for their years of service.
Three employees were recognized for 25 years of service: Kristina Brewer, director, information services, Health Sciences Education Center; Terry Johnson, employment specialist; and John Wagner, Ph.D., professor, chemical engineering.
Greg Perschke, assistant athletic director and head baseball coach, was recognized for 20 years of service.
Seven employees were recognized for 15 years of service: Dan Callahan, assistant athletic director for compliance; Barry Emerick, assistant golf course manager; Scott Goplin, vice president for enrollment management; Kathy Grygienc, central receiving and mail center manager; Josh Hornbacher, executive producer; Trine Broadcasting Network; John Milliken, J.D., assistant vice president, Student Success and Engagement; and Julie Pfafman, senior executive assistant of academics.
Twelve employees were recognized for 10 years of service: Barry Aldrich, housekeeping; Sarah Franzen, Ph.D., assistant vice president for accreditation and dean of the Jannen School of Arts & Sciences; Kelly Howe, housekeeping; Wendy Kipfer, event and fleet services; Mark Kolar, Ph.D., associate professor, Ketner School of Business; Vinnie Lang, instructor, exercise science; Tony Layson, Ph.D., associate professor, science; Kevin Molyet, Ph.D., associate professor, design engineering technology; Dean Orewiler, creative multimedia specialist; Hong Keun Park, Ph.D., associate professor, science; Barbara Schmidt, mail center assistant; and Chuck Stommel, event coordinator.
The following employees were recognized for five years of service: Bob Antos, senior systems administrator; Carling Belknap, assistant director, CGPS/TrineOnline financial aid; Jason Blume, executive director, Trine innovation 1; Angela Bojrab, D.P.M., associate professor, science; Lauren Decker, instructor, mathematics and physics; Jackie Delagrange, J.D., chair and assistant professor, Department of Criminal Justice; Mary Ditmars, executive assistant to the Office of the President; Ryan Dombkowski, Ph.D., professor, Doctor of Physical Therapy; Steven Faramelli, creative media specialist; Dawn Frye, housekeeping; Brittni Heiden, graduate director; Michael Hess, J.D., assistant professor, criminal justice; Nicholas Hogan, academic director, CGPS/TrineOnline; Jon Koch, Ph.D., associate professor, mechanical engineering; Christy Mann, housekeeping; Mari McHenry, director, international community services; Andrea Mofield, associate director of transfer and dual enrollment; Lindsay Omlor, director of charter schools; John Patton, Ph.D., assistant professor, biomedical engineering; Danny Powell, Ed.D., assistant professor, business, head coach, women's triathlon; Jeffrey Raymond, lab instructor, chemical engineering; Deborah Richard, assistant professor, business; Thomas Ruediger, DPT, director and associate professor, Doctor of Physical Therapy; Srijana Sharma, assistant director, international admissions; Beth Tagtmeyer, student accounts manager, Business Office; Chandra VanAken, administrative assistant, Office of International Services and Jannen School of Arts & Sciences; Kim Wright, assistant professor, psychology and social sciences; and Karl Zimmerman, head coach, men's lacrosse.
Photos: Kristina Brewer, top, director of information services at Trine University's Health Sciences Education Center, Terry Johnson, middle, employment specialist, and John Wagner, Ph.D., bottom, professor of chemical engineering, are recognized for 25 years of service by Earl D. Brooks II, Ph.D., Trine University president, during Monday's employee kickoff. (Photos by Dean Orewiler)