Big 'Wheel': Trine graduate succeeds on game show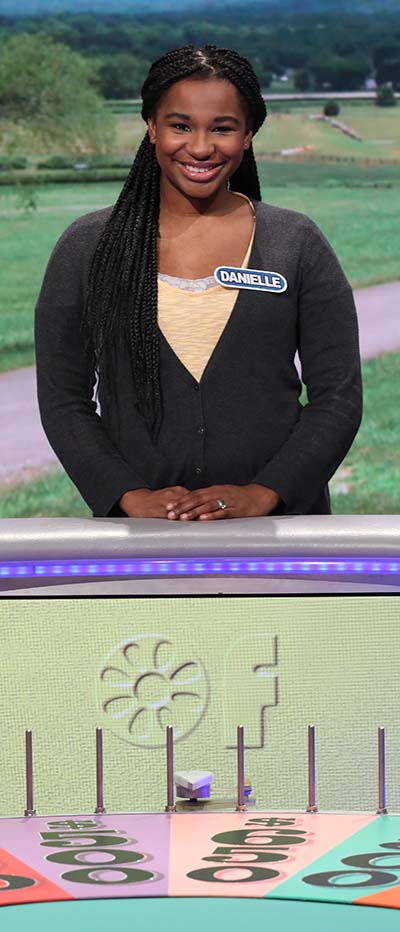 FORT WAYNE — Danielle Frecker not only got to cross an item off her bucket list, she brought home more than $27,000 in cash and prizes while doing so.
The 2017 Trine University graduate appeared on the long-running syndicated television game show "Wheel of Fortune" on Jan. 24
"I have always had a knack for letters, words and spelling, and have been a fan of 'Wheel' ever since I was a child," she said. "I watch it every night with my family. It is something I truly enjoy."
Danielle solved several puzzles in her appearance and advanced to the bonus round, where the letters L, G, R and E were not enough for her to guess "PUBLIC FIGURE." Her winnings from the day totaled $27,490, which included cash and a Ford Fiesta.
"I feel I did well," she said. "Although I had a bit of a snag in the beginning, no one fully understands what it is like to be in that situation and under that pressure until they have done it. It is very different than watching it at home on your couch!"
She applied to be on the show about a year ago, but once she received an email inviting her to audition she said the process went very quickly. She received the email Nov. 1 for a Nov. 15 tryout in Indianapolis. The audition included about 40 aspiring contestants from surrounding areas.
"We played a mock game in which they wanted to see our game strategy, our voice volume, level of comfort, etc., to see how we would fare on the show," she said. "They then let us know that if we were going to be put into the contestant pool we would be contacted."
She flew to California to tape the show on Nov. 30.
"It usually isn't that fast. It just so happened they had an opening for Nov. 30 and were looking for someone from this area," she said.
"It felt very surreal to be selected. I was in complete shock and disbelief. But I felt very blessed."
With only a short time to prepare, Danielle watched "Wheel of Fortune" every night and tested herself repeatedly.
"My husband was adamant about doing research on the game and would quiz me as well," she said.
She described her experience on the show as "fantastic."
"Everyone was welcoming and supportive, staff and fellow contestants alike," she said. "Pat Sajak and Vanna White are very down-to-earth and supportive as well. After I made my initial mistake on my episode, they came to me on commercial and comforted me. They let me know that this experience is harder than most would think, that mistakes happen and it is all in how we handle them.
"After I 'redeemed myself' and won my car they were very excited and happy for me, and said how impressed they were with me and with my abilities. It made me feel like I was exactly where I was supposed to be."
Danielle said appearing on the show reaffirmed to her the importance of following a dream.
"If there is something you really want to experience in this life, don't let fear keep you from doing it," she said.
A Bachelor of Applied Management graduate from Trine University's College of Graduate and Professional Studies, the Fort Wayne resident works as an administrative assistant at a logistics company when she is not appearing on television.
"I have been loving being able to put what I learned at Trine to good use!" she said.