Event discusses challenges, opportunities for women in criminal justice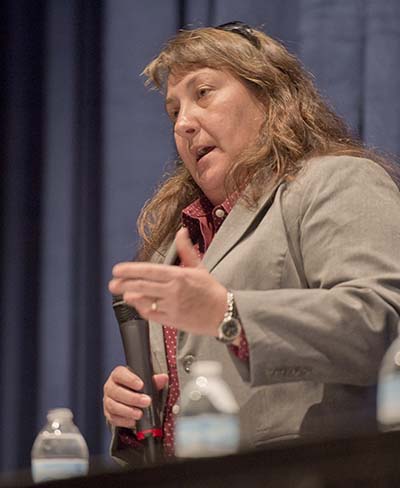 Lesley Cochran-Timm knew that working for the U.S. Secret Service wouldn't be easy as a woman in 1995.
"The Secret Service isn't an easy career path for any woman, myself included," the Tri-State criminal justice graduate told about those attending Trine University's first Women in Criminal Justice symposium on March 13. "Coming into this I expected to be discriminated against, intimidated or harassed."
The inaugural event, themed "Challenges, Changes and Careers," drew about 120 women including Trine criminal justice majors and students representing 19 area high schools to hear from Cochran-Timm and panels of female professionals representing law enforcement, the judiciary and corrections.
"The event was a great way to bring together those students who are considering a career in criminal justice and may not know the options available," said Jackie Delagrange, coordinator for Trine's Master of Science with a major in criminal justice program. "It was a great experience for our community to see the number of women successfully carrying out their career goals, especially those who started here at Tri-State and Trine University. It was great to hear them reflect on their time here as a foundation to their career."
"We were honored to have Agent Cochran-Timm and so many other alumnae come back to campus and share their experiences with our current students, future criminal justice students and others from the area," said Cisco Ortiz, chair of Trine's Department of Criminal Justice. "These women sat in the same classrooms and taken the same courses as many of the students in those sessions. Many of the alumnae highlighted the benefit of double majoring in criminal justice and psychology. The non-alumnae speakers also provided some very wise advice about career paths and career preparation. To have some of the higher-level administration from the judicial and corrections fields was a bonus. It signifies the levels of advancement available in various criminal justice career paths."
Cochran-Timm provided the keynote address for the symposium. A senior special agent with the Secret Service, Cochran-Timm has served with its Protective Intelligence Division and, most recently, its Presidential Protective Division, where has she protected current and former U.S. presidents and vice presidents as well as heads of state from other nations.
She noted that the percentage of female agents has changed little since she joined the Secret Service. In 1996, 9 percent of the agency's agents were female; in 2018, that number had only grown to 10 percent.
"The nature and requirements of the Secret Service are a natural deterrent for women," she said, noting that she didn't have many second dates due to the travel demands of her job.
"It's a true test of relationships," she said. "Your spouse or significant other and support system must be understanding."
Though she encountered challenges due to being a female in a male-dominated field — including one supervisor who told her, "anything you do will not be good enough" — she said such incidents were merely "speed bumps in my career."
A bigger irritation, she said, is encountering females attempting to enter the field unprepared physically or mentally. Some have not dressed functionally on the job — the Secret Service is not a place for high heels.
"I am more critical of other females in my line of work," she said. "I know there are people who want us to quit."
Despite the challenges, Cochran-Timm said her work has allowed her to meet people from around the United States and overseas, and to be a witness to multiple historic events.
"I truly am proud to be a Secret Service agent and enjoy what I do," she said. "The good experiences have vastly outweighed the few bad."
To women who have or are considering a criminal justice career, she said, "You're choosing a path less traveled by other women. You will have joined a family of the most intensely loyal kind."