Sen. Young visits Trine campus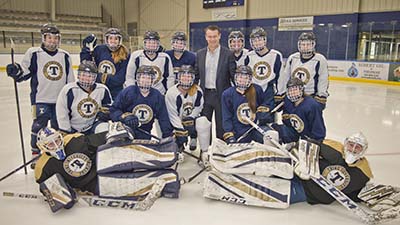 Sen. Todd Young visited the Trine University campus on Friday, April 12, to receive updates on all that is happening at Trine and to discuss higher education issues with university President Earl D. Brooks II, Ph.D. The visit was a follow-up to a visit Brooks made to Young in Washington, D.C., earlier this year. While on campus, Young toured the T. Furth Center for Performing Arts, Thunder Ice Arena, MTI Center and Trine innovation 1.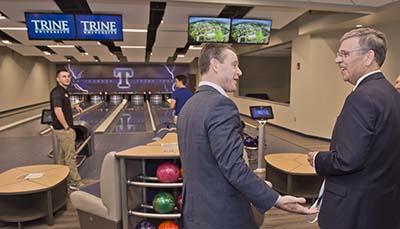 Young was the 2017 Commencement speaker for Trine University, and received an honorary Doctor of Public Service degree from the university during the ceremony.
Photos: Top, Sen. Todd Young shakes hands with Michael Deaves, from Washington, Indiana, as Alex LeMaster, from Portland, Indiana, watches. Both students are sophomores majoring in design engineering technology. Top right, Sen. Young poses with the Trine University women's hockey team on the ice at the Thunder Ice Arena. Second right, Sen. Young, left, and Trine University President Earl D. Brooks II, Ph.D., at the bowling alley inside the MTI Center. Bottom, Sen. Young and Dr. Brooks watch as students demonstrate the capabilities of Trine's Sports Biomechanics Lab. (Photos by Dean Orewiler)