Trine faculty, staff engineering new weapons in COVID-19 fight
Engineers have played an important part in war efforts throughout history, from designing bridges to transport munitions to developing weapons that hopefully bring the war to an end.
As the United States finds itself in an escalating war against the novel coronavirus, Trine University engineers are doing their part to try and make a difference.
Though campus is closed and all students are taking classes online, teams of Trine faculty and staff members from Trine innovation 1 (Ti1) have been working under the direction of Parkview Health to develop devices that provide alternatives to equipment in limited supply, such as ventilators and N95 respirator masks.
One team has developed a machine that can automatically pump a manual resuscitator — commonly known by the proprietary name Ambu bag — serving as a replacement for a ventilator if needed. A second is working on prototypes for a hard-shell mask that could be sterilized, with a replaceable respirator filter, thus increasing its lifespan.
Jason Blume, executive director of Trine innovation 1, said Parkview has reached out to many area institutions to see what resources are available to address an expected increase in patients with COVID-19, caused by the novel coronavirus.
"A lot of health and medical institutions are looking at what the potential pinch points are," Blume said. "Parkview has put together a team of innovators from their innovation group, and we're part of that."
Parkview has assigned projects to its various innovation teams based on conversations regarding the resources each has available. The Ambu bag machine and respirator mask were both assigned to Trine because of the university's ability to develop solutions and prototypes quickly, Blume said.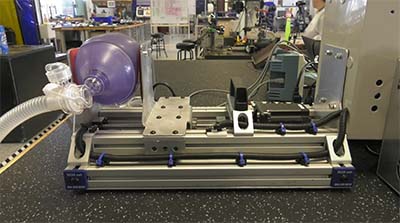 Ambu bags, which provide hand ventilation during an emergency, are readily available for emergency response teams and throughout hospitals. However, they are impractical to use for long periods of time.
The Trine team initially developed a machine that could perform compressions on the bag, and has since, under the direction of a Parkview clinician and respiratory technician, added features that allow for varying lung capacity and number of breaths per minute.
"Over the course of the last eight days we have learned what sensors, alarms and variable controls are needed to make it a more technical piece of equipment that a respiratory technician can actually utilize in a hospital setting," Blume said.
The machine, now in its fifth iteration, was developed using existing components from Trine University laboratories that could easily be manufactured by area vendors, with software coding provided by Trine faculty. The team plans to test the machine with an artificial lung within one to two days to validate that it has the responsiveness needed.
The second Trine team is 3-D printing respirator mask prototypes. They plan to test the prototypes with clinicians within the next day or two to make sure they not only seal well, but are comfortable to wear for long periods of time.
With filter material for N95 masks in short supply, they also are investigating alternative filter media, which will be tested in a wind tunnel to make sure it screens out necessary levels of microorganisms.
Once the teams' work has been validated, Blume said, Parkview will contact the Food and Drug Administration to see if the projects can be fast-tracked into production. When that happens, Blume said the Trine groups will begin working on other projects.
"We don't anticipate slowing down," he said. "We're going to continue seeing where we can help and leverage what resources we have in any way that we can."
The projects fit well with Trine innovation 1's mission to leverage Trine University resources to partner with outside industry, Blume said. Though usually Ti1 works to provide opportunities for students to get hands-on experience, with students sidelined at home, more than a half-dozen Trine faculty are working with the projects on a daily basis.
"The faculty who are helping us are teaching full-time in a new environment transitioning to an online format," he said. "They're adding more to their already full-time workload because they know that their skill and ability can make an impact."
Ti1 also is actively engaging with regional manufacturers to identify additional resources and solutions.
"This is engineering problem-solving at its finest," Blume said. "Under different circumstances, this would probably be one of the most fun and dynamic projects I have worked on. It is still fun and dynamic, but the stakes are much higher."
Photos: Top, Andrea Mitofsky, Ph.D., left, associate professor in the Department of Electrical and Computer Engineering at Trine University, and Joe Thompson, lab technician and instructor in the Wade Department of Mechanical and Aerospace Engineering, work on a machine that can automatically pump a manual resuscitator in the Mechanical Engineering laboratory at Trine. At right, the machine is designed to serve as a replacement for a ventilator if needed.
Last Updated: 04/07/2020