Axel joins Trine University Board of Trustees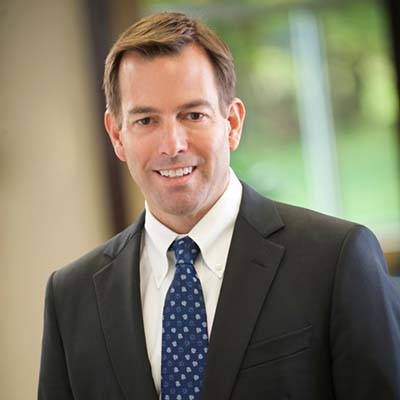 The Trine University Board of Trustees elected Michael D. Axel, CFA, founder and president of AMI Investment Management Inc. in Kendallville, to its membership during its June 11 meeting.
"With deep roots in northeast Indiana, decades of community leadership and a lifelong commitment to giving back to this region, Mike is an ideal addition to the Trine University Board of Trustees," said Dr. Rick L. James, Board chair. "We look forward to the insight he will bring as the university seeks to make even more of a positive impact on the quality of place and quality of life throughout this area."
"It has been amazing watching the growth of the Trine University campus and student body over the last several years. The university's world-class faculty does an outstanding job teaching young men and women to think critically, so that they are well prepared for the rapidly changing work environment. Trine is a great asset for our region and I look forward to serving this outstanding institution," said Axel.
Axel founded AMI, a registered investment advisor managing approximately $550 million for institutional and individual clients, in 1995. He previously had served as investment manager for the Dekko Foundation and Group Dekko International. Prior to his work at Dekko, Axel was a financial analyst at RCI in Indianapolis.
"Mike's extensive experience and expertise in finance and management will be a tremendous asset as Trine University remains committed to providing an affordable, quality education for students in these uncertain times," said Trine President Earl D. Brooks II, Ph.D. "We are glad to have him on board."
Axel graduated from Wabash College with a Bachelor of Arts in economics in 1989 and received his MBA from Vanderbilt University with a concentration in finance and investments in 1991. He was awarded the Chartered Financial Analyst designation in 1994 and is a member of the CFA Institute. He has more than 25 years of experience in the investment industry.
Axel grew up in Kendallville and lives there with his wife Natalie. The couple has four children, Drew, Trevor, Jordan and Ben. He was honored as the city's Citizen of the Year in 2013 by the Kendallville Area Chamber of Commerce for his service to the community.
He currently serves as treasurer of the board of Parkview Health System as well as chair of Parkview's finance committee and its investment committee. He also is a member of the Dekko Foundation Grants Review committee, the Oak Farm Montessori School Board of Directors, Trine University's Ketner School of Business Advisory Board and the Strength Capital Partners Advisory Board.
Last Updated: 06/16/2020