Biomedical engineering students present research posters at national meeting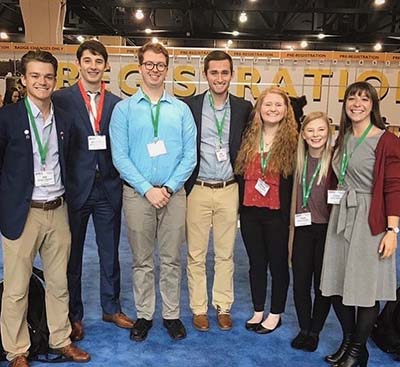 Two Trine University biomedical engineering students presented posters at the 51st annual Biomedical Engineering Society (BMES) Annual Meeting in October.
The 2019 meeting was held Oct. 16-19 in Philadelphia. The largest event for the biomedical engineering and bioengineering fields, it attracts more than 5,000 people each year.
Alexander Pessell, from Arcadia, Ohio, presented "Cross-linker Geometry Influence on Mucin-based Hydrogels," which described a research experience for undergraduates (REU) he did in the summer of 2019.
The project combined various types of polyethylene glycol (PEG), used to form hydrogels, with bovine and porcine mucin (protein secretions that form the basis of mucus) to see which were the most effective at forming hydrogels with the properties needed to simulate mucus.
Pessell also won the Best REU Project award at Trine's third annual STEM Symposium in December.
Joe LeSueur presented on "The Effect of Fatigue on Impact Accelerations in Ballet Dancers." He also presented at Trine's STEM Symposium, winning the People's Choice Award.
LeSueur graduated summa cum laude with the Trine University Class of 2020 and plans to focus on trauma biomechanics in the Ph.D. in biomedical engineering joint program at Marquette University and the Medical College of Wisconsin joint program.
Photo: Several Trine University students attended the Biomedical Engineering Society (BMES) Annual Meeting in October. Joe LeSueur, left, and Alexander Pessell, second from left, presented research posters from projects they participated in.