Tri-State connections helped Ewart on successful career path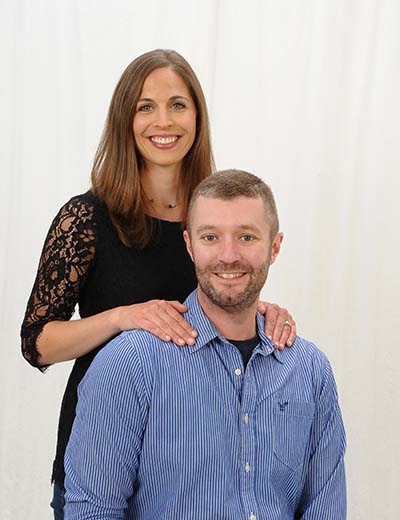 Like many Tri-State and Trine University students, Brad Ewart II, 2007 BSCE, transitioned from a college internship into a full-time job. But the economic downturn that began shortly after he graduated took him in a different direction than he'd planned.
"I could have never imagined the path my career would take," he said. "I can only thank God for guiding my path, giving me the opportunities, and providing wise coaches to point me in the right directions."
As a senior in high school, Brad had considered an architectural design career, but said "something about colors and art didn't appeal to me." He was originally attracted to Tri-State by its small class size, the accessibility of the professors and the opportunity to play baseball at the collegiate level.
"I grew up in smaller schools, and for a five-year period I was even homeschooled, so I wasn't ready to attend a larger university where I could potentially get lost as a number in the crowd," he said. "I like to connect with people through relationships and build closeness with my peers, which can be difficult to do at larger universities outside of your particular area of study."
He also connected with Tim Tyler, Ph.D., professor of civil engineering, who served as his advisor.
"What a guy!" Brad said. "I have yet to meet someone as happy and enthusiastic as that man."
He built many memories and friendships during his time at Tri-State, but one misadventure stands out.
"There was this one time sophomore year where our RA and four of us Fabiani guys decided to take a road trip to Coldwater to see a statue that was supposed to look as if she was crying when subjected to moonlight," he recalled. "Come to find out, the statue was in a cemetery."
The group left in the afternoon, arriving after dark. They found the statue and, Brad remembered, "it really did look like it was crying in the moonlight."
"However, we also discovered there were visiting hours at the cemetery and the police showed up just as we were leaving," he said. "Needless to say, our RA's car was torn apart by the police as they searched for anything that could be used to deface grave monuments, and we thought for sure we were going to jail."
"The police were very professional and, at times, funny. They determined our story was true, and they let us go back to campus with a warning."
When Brad graduated, he started working as a civil designer in a small firm, where he had interned each summer during his tenure at Tri-State.
"I learned surveying and civil design, which I very much enjoyed and thought I would do the rest of my career," he said. "However, life had other plans."
The firm where Brad worked was heavily tied to residential developments and, by five months after graduation, the housing market had collapsed and layoffs began.
"Being the staff engineer, I was one of the first two to be cut," he said. "The firm went from 13 employees to three within six months."
He immediately started reaching out to other firms in the area, but had no success due to the onset of the Great Recession.
"I then remembered the Tri-State Industrial Advisory Board meeting I attended that past spring, where I met several Tri-State alumni who were business leaders," he said. "I began reaching out to them, and sure enough my connections through Tri-State landed me a job in Indianapolis."
He began working for Bill Dubois, 1966 BSCE, and Sean Smith, 1999 BSCE, at Patriot Engineering. After about a year of working in Indianapolis, he had the opportunity to become a geotechnical engineer in the company's Fort Wayne office.
He discovered he had a knack for working with soil and concrete issues.
"I didn't realize it right away in school, but understanding the way soil and concrete react in the world comes easily to me," he said. "Also, I believe I can easily communicate that reaction to others who do not have a geotechnical background and relate how my work interacts and affects their portions of the project.
"I also enjoy problem-solving. Soils are not generally a man-made material. It was placed there by God. Therefore, geotechnical engineering is more of an art than a science. Experience in handling soil-related issues on a project is invaluable to avoiding extra, unnecessary construction costs. The right solutions, implemented at the right time, can help a project team through tough times, since soil-related issues on a project can drain a project contingency budget quickly."
After about a year in Fort Wayne, Dubois gave him the opportunity to become a branch manager for Patriot, overseeing northern Indiana, northwest Ohio and "as much of Michigan as I could handle."
"I didn't have as much confidence in myself as Bill obviously had in me, but with his guidance and coaching, I started to learn business and life is all about relationships," he said. "He coached me to foster relationships and always be looking out for how my work will affect the work of others on the project team. I owe a lot to Bill."
With most of Brad and his wife Angie's family living near Lansing, Michigan, the couple found themselves often making the 2-1/2 hour drive from Fort Wayne. After about six years, SME, a consultant engineering company based in Plymouth, Michigan, approached Brad about working for them.
"Unbeknownst to me, I had competed against SME on some high-profile projects," he said. "Through a conversation at Purdue Road School with the person who would become my Team Leader at SME, he learned my wife and I were both from the Lansing area. When the position for Regional Manager in Lansing opened, SME thought of me. I was not looking for another job when SME approached me. After a lot of thought and prayer, I decided to take their offer to work in the area where my wife and I grew up."
Brad has continued in the role for five years, servicing the Mid-Michigan and Northern Indiana regions for the company and serving as a senior project engineer on geotechnical engineering projects.
"I devote my time to managing projects, engineering geotechnical solutions for project teams, communicating our solutions, and building relationships with current and future project partners," he said. "You could say I wear many hats. I also drive a lot."
He credits Tri-State with not only providing him a network of professionals to help him on his career path, but with "the breadth and depth of education I needed to change roles as needed as my career progressed."
"When I look at some of the engineering programs at larger well-known universities in our area, I do not see the same high-quality education Tri-State offered me, and Trine still offers to its students," he said. "A Tri-State/Trine graduate seems to have more relevant technical undergraduate classes than I have seen in Division I programs. To have some of the geotechnical classes I received as part of my undergraduate degree, a Division I student would need to pursue a master's degree."
Photo: Brad Ewart II, 2007 BSCE, and his wife Angie.
Last Updated: 06/30/2020