Trine Career Fair draws record numbers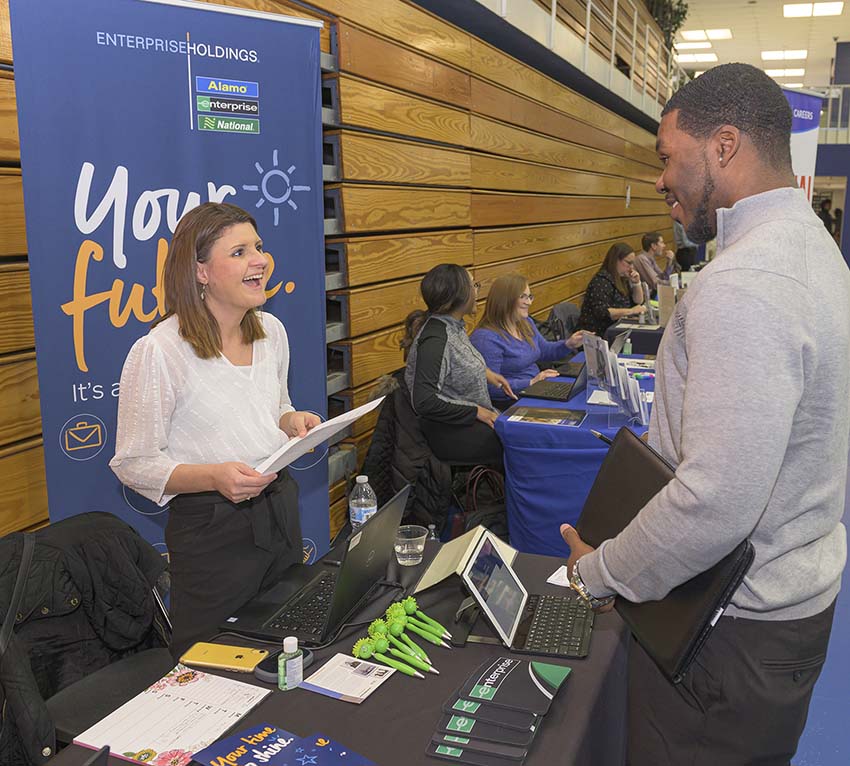 More than 400 students participated in Trine University's annual All Majors Career Fair on Feb. 13, meeting with more than 200 representatives for 90 companies.
To accommodate continued record numbers of students and employers participating, the fair was relocated to Hershey Hall.
"Our on-campus career fairs are an invaluable experience for students," said Linda Cooper, career advisor and project manager for the event. "Students build their soft skills and learn how to talk about their interests and accomplishments while learning more about different career options with employers representing a variety of industries. How often do you get 90-plus organizations on campus in one room at one time who are recruiting our students for internship and full-time opportunities? We are pleased to offer these kinds of opportunities to our students."
New sponsors for this event included partner sponsor LHP Engineering Solutions and supporting sponsors Commonwealth Associates and Heartland RVs. These organizations joined sponsors of the fall career fair, which included partner sponsors Ariel, Cardinal IG, Shambaugh & Son, and Troyer Group, and supporting sponsors C.E. Electronics, Eva-Lution, GPD Group, Federated Insurance and Parker Hannifin.
Twenty-two new organizations participated in the All Majors Career Fair, including the Allen County Sheriff's Department, Bull Moose Industries, Centria Healthcare, Heartland RVS, Kings Island, Lawrence Livermore National Laboratory and NASA.
The new space was rated highly by students, who viewed on-campus shuttle transportation to and from the event, the larger event floor space and the addition of a student staging area — a suggestion from senior biomedical engineering student Katie Kline from Kendallville, Indiana — as top reasons they enjoyed the new venue. Most importantly, students reported that the number and variety of employers (the largest number of organizations to register for a career fair in 11 years), the networking opportunities and the ease of finding desired business contacts as the best things they liked about the fair.
To help prepare students for the career fair, Cooper and career advisor Terry Johnson hosted several resume critique events and a mock interview day with expert volunteers from employer organizations, made more than a dozen classroom presentations, shared a short video or brief article weekly on career fair networking through social media and Handshake platforms, and shared career fair information with students in individual coaching appointments. Student marketing assistants Kline, Kayla Kay, a criminal Justice and psychology major from Columbia City, Indiana, and Hannah Otto, marketing major from Genoa, Ohio, helped promote the event to students.
Photo: Tabatha Cates-Powell, left, of Enterprise Holdings talks with Savion Golden, a sport and recreation major from Fort Wayne, Indiana, at Trine University's annual All Majors Career Fair on Feb. 13. (Photo by Benjamin Williams)
Last Updated: 03/05/2020