That's Ant-ertainment: Bawmann discusses career at Trine Center for Sports Studies launch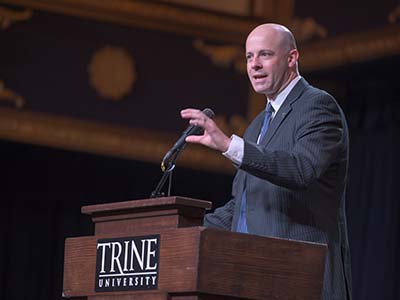 Rather than start his presentation off with a joke or an anecdote, Fort Wayne Mad Ants President Tim Bawmann joined members of his staff in throwing T-shirts, Frisbees and ball caps to those in the T. Furth Center for Performing Arts for the launch of the Trine Center for Sports Studies.
"What you just witnessed is what we're all about," Bawmann said. "Victor Oladipo is not starting for me tonight in Fort Wayne, so what I have to do is come up with other creative ways to get people to come out to our games."
Bawmann discussed the intersection of sports, business and entertainment — or, as his NBA G-League team calls it, "Ant-ertainment" — as well as his career trajectory to help Trine University kick off its new academic center on Thursday, Feb. 20.
The Trine Center for Sports Studies is a multidisciplinary teaching and experiential learning collaborative focusing on the study of sports and the international sports industry. It draws from multiple programs and courses in business, health sciences and communication to prepare Trine students to work in the business of sports.
Trine University President Earl D. Brooks II noted that the university "has a history rich in athletics, sport and the business of sports."
"Over 1,000 student athletes participate on 36 teams, and we have some of the finest facilities in NCAA Division III," he said.
Brandon Podgorski, director of the Trine Center for Sports Studies and assistant professor in Trine's Ketner School of Business, commented that, "The study of sports is the study of big business."
"Sports is a $500 billion industry," he said.
The new center, Podgorski said, focuses on thought leadership in sport. The center already is producing a twice-monthly podcast featuring interviews with those involved in sports and the sports industry. It also plans to bring several speakers a year to campus, promote and publish research within sports-focused classes, work with the athletic department to put together an end-of-year banquet for Trine athletes, and work with the Admission Office to develop a sports symposium for potential students.
"This center is up and alive and I'm excited about what's coming up," Podgorski said.
Bawmann noted that majors like sports management did not exist when he attended college in the 1980s. He earned a degree in broadcasting, hoping to get a job in that area with a sports team.
"All I knew was somehow, some way, I wanted to work in professional sports," he said.
After graduating, he took an unpaid internship with the Beloit Brewers Class A baseball team in Wisconsin, and then took a paid play-by-play position with the Osceola Astros before becoming Director of Florida Operations for the Houston Astros.
He eventually spent 28 seasons in minor league baseball before joining the Mad Ants in 2016.
"I've been in this business since 1988. I never wake up in the morning and say, 'Man, I do not want to go to work today,' " he said. "I never in my wildest dreams would have imagined that I would end up with all of the experiences that I've have in this life. Sports is an amazing business. I would recommend it to anybody who wants to do it."
However, Bawmann said there are drawbacks to the sports industry, including long hours and working on weekends and holidays, as well as giving up family time.
"My daughter has graduated from college and lives in St. Pete, Florida. She never had the opportunity to experience a summer vacation because dad was always working in the summer," he said. "My son is a junior in college out East and never had a summer vacation because dad was always working in the summer."
His career also has come with many benefits.
"I've been blessed to meet some amazing people in this world," he said. "I just spent the weekend in Chicago at the NBA All-Star Game. I never in my life would have imagined that I would go to an NBA All-Star game or be 10 feet away from Magic Johnson, Larry Bird, Michael Jordan, some of those guys. I had the opportunity to meet the first President Bush when I was working for the Astros in Florida."
"That stuff's cool," he said. "It doesn't pay your bills, but it's pretty cool."
He told students that there are many jobs available in sports, including accounting, marketing, sales, media relations, broadcasting and human resources.
"There are all kinds of jobs out there, not just what you see on television," he said.
He encouraged students interested in sports careers to build networks and meet people in the industry. He also told them to take advantage of the opportunity to take classes in areas such as marketing and accounting while at Trine.
"I didn't study accounting at all in college," he said. "I had to learn all of that on my own, so if you can take some of those classes and get some of that experience when you're in school, it will help you get ahead of everybody else."
He also touted the value of practical experience, encouraging students to get internships and to look for opportunities to help promote sports on campus.
"That's what I do for a living," he said. "You can do it right here at Trine University and have a lot of fun doing it."
Photos: Top, Tim Bawmann, president of the Fort Wayne Mad Ants, gestures as he speaks at the launch of the Trine Center for Sports Studies on Thursday, Feb. 20. At right, Brandon Podgorski, director of the Trine Center for Sports Studies, speaks at the launch event. (Photos by Dean Orewiler)
Last Updated: 02/24/2020