Trine hosts first DECA competition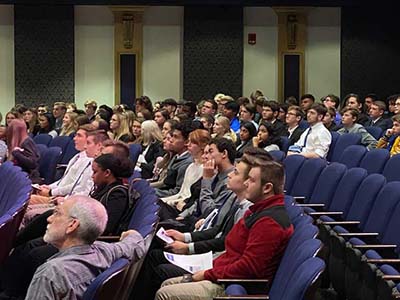 Nearly 200 high school students took part in the first regional DECA competition held at Trine University on Jan. 11.
The event brought 191 students and more than a dozen high school advisors to campus. Following an opening address by Heather Kim, assistant vice president of enrollment management and dean of admission, and Mattie Kirby, admission counselor, students headed to Best Hall for a multi-faceted case study competition where they presented in both individual and team events.
Eighteen staff members from various departments volunteered for the event, which included opportunities for the students to talk with staff, eat lunch in Whitney Commons and tour campus.
Event organizers Olivia Lusher, director of strategic partnerships, and Jason Blume, executive director of Trine innovation 1, hope to expand the competition next year.
DECA prepares emerging leaders and entrepreneurs in marketing, finance, hospitality and management in high schools and colleges around the globe. The organization serves 220,000 members in 3,725 high schools, and more than 15,000 members in 275 colleges and universities.
Last Updated: 01/17/2020