Decker awarded Hershey Scholarship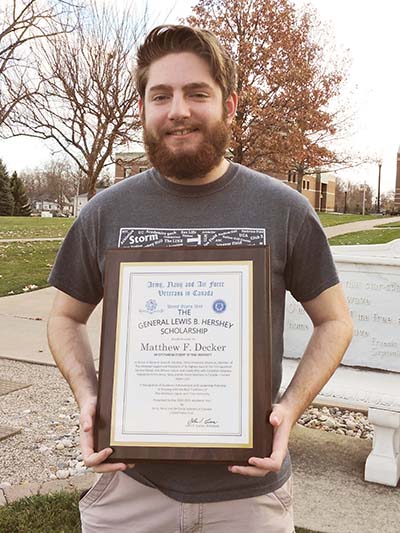 Matthew Decker, a Trine University sophomore from Bluffton, Indiana, was recently awarded the General Lewis B. Hershey Scholarship.
The General Lewis B. Hershey Scholarship was established in 1988 by the Army, Navy and Air Force Veterans in Canada and the United States (ANAVICUS) to honor General Lewis B. Hershey, Trine University alumnus and former director of Selective Service for the United States. The recipient is to be a Trine University sophomore or junior who has demonstrated academic achievement (minimum of 3.0 cumulative GPA) and leadership potential.
Son of Nathan and Karel Decker, Matthew Decker is a graduate of Norwell High School who is pursuing a degree in chemical engineering. He is involved Trine's student chapter of the American Institute of Chemical Engineering and the Trine Disc Golf Club.
The scholarship is typically presented during Homecoming, but those festivities did not take place this year due to concerns related to the COVID-19 pandemic.
Last Updated: 11/11/2020