Alumni reunite to cheer Thunder baseball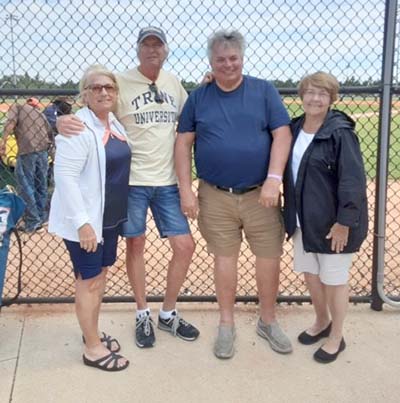 When the Trine University baseball team took the field against Grove City (Pa.) on March 6, the Thunder had some extra support from alumni.
Frank Hall BSBA 1970 and his wife Beth cheered on their grandson Chase, Trine's second baseman, with support from friends John Goudy BSBA 1970 and his wife Cheryl.
Frank and John were acquaintances while at Tri-State and have become closer friends through the annual Sig Cup alumni golf competition. Frank was in Kappa Sigma at Tri-State, and John was in Alpha Sigma Phi.
John and Cheryl regularly winter in Lake Placid, Florida, from January to March, while Frank and Beth have watched grandsons Cale and Chase play baseball in Florida for Trine over the past four years.
"This year was really fun, going 8-0," said Frank.
John said he and Cheryl had previously gone to some home games at Trine with the Halls. In January, Frank and his brother got together with John in January to see fellow alumnus Daryll Shoff 1970 GBUS race.
"Darryl still does seven or eight major races every year — and wins," John said. "They said the ball team was playing in March so we came up to watch."
The Goudys and Halls — also joined by Chase's parents, Frank's son and his wife — cheered together during the double-header. The Thunder won the opener 5-4 in extra innings, with Chase scoring the winning run, and took the second game 8-1.
Frank said the first game was "the most exciting game of the week."
"We were down several runs, beginning to think we were going to face our first loss of the week, but we came back and won," he said.
John said there were about 60 fans present to cheer for the Thunder.
"There was a surprisingly nice-sized crowd," he said, "some alumni as well as parents."
"What is really fun is watching Frank and Beth. Like a lot of grandparents they are living vicariously as their grandson competes."
Frank said he is proud his grandsons decided to attend his alma mater.
"I think one of the best decisions Chase and Cale have made was to get their education at Trine," he said. "I have always been amazed at how well my friends have done in life. and I think Trine deserves a lot of credit for getting us all off on solid ground. I am looking at Chase and his friends on the baseball team and feel they have had the same education and are headed for great careers."
Frank said he also enjoyed visiting with other friends while in Florida, such as John 1970 BSBA and Diane Stock and Steve 1970 BSBA and Wendy Lahood.
"Trine graduates have done great, and many are in Florida enjoying retirement," he said.
Photo: From left, Cheryl and John 1970 BSBA Goudy, and Frank 1970 BSBA and Beth Hall at a Trine University baseball game in Auburndale, Florida, on March 6. The Halls' grandson Chase was playing second base for the Thunder.
Last Updated: 03/25/2020