Trine senior one of state's 70 Orr Fellows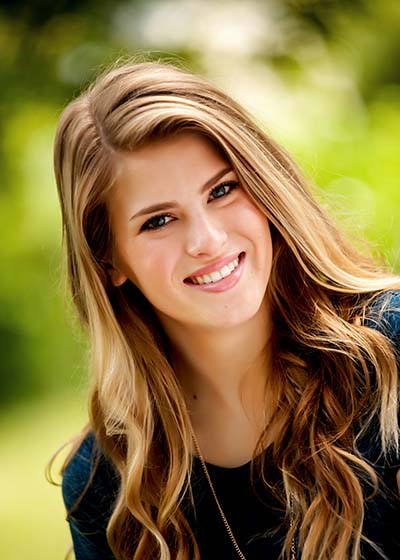 INDIANAPOLIS — Naomi Gollmer, a senior at Trine University, is one of 70 students who recently accepted a job offer in Indianapolis through the prestigious Orr Fellowship.
The marketing major from Flat Rock, Indiana, will work during her fellowship at CleanSlate Technology Group in Carmel, Indiana, which provides dedicated practices and specialized consulting services around Cloud, Enterprise Integration, Enterprise Applications and IT Asset Management. Gollmer will serve as a marketing associate for the company, working on social media, creating content, and producing audio and video projects.
"I was overjoyed that I got an offer from CleanSlate," Gollmer said. "I really connected with them and felt like I would fit in with their company culture. They have a small marketing department, so I will be heavily contributing to the more creative projects that they have been wanting to take on."
Founded in 2002, the Orr Fellowship is a two-year, post-graduate program combining a full-time position at an innovative, Indianapolis-based company with a curriculum focused on community involvement, professional development and leadership. Fellows also benefit from a vibrant peer community and a robust alumni network.
"I decided to apply for the fellowship because I liked the idea of having other people my age who would be living in the same city as me, who would also be just starting in their careers," Gollmer said. "It is also a great program that sets you up with an extensive network, both personally and professionally."
The application process for the Orr Fellowship, which Gollmer described as "very long and strenuous," begins Aug. 1 each year and continues through early November. Candidates attend networking events and interviews, where they are evaluated on grade point average, extracurricular involvement, leadership experience, and personal and professional traits such as work ethic, resilience, curiosity and enthusiasm.
Only about 5 percent of those who apply to be an Orr Fellow are eventually accepted.
"I applied over the summer and received my offer in November, the night of Finalist Day," Gollmer said. "Each round there were more and more cuts, and every round got even more challenging! I worked really hard throughout the process and made great connections, so it was rewarding to see all of my hard work pay off."
Gollmer said she hopes to continue to work in the Indianapolis area once she has completed her fellowship.
"I have always loved Indiana, specifically Indianapolis," she said. "I want to stay in Indy as long as I possibly can, and Orr will help me do that with all the connections I have, and will, make. I also love that they encourage growth within the host companies. Orr Fellows have an extensive network after the two years is up, and it allows them to stay within their host company or move around to other companies within the network."
Last Updated: 06/30/2020