Student loan default rates remain low at Trine
Trine University graduates continue to have a low rate of student loan default, according to an annual report from a national financial education website.
LendEDU's second annual report on student loan default rates, released Oct. 6, ranked Trine in the top third of colleges and universities in Indiana and nationwide for having the lowest rates.
Trine's default rate of 4.8% ranked 24th among 79 Indiana colleges and universities and 1,132nd nationwide, among about 4,500 institutions.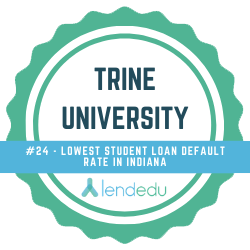 "Our continued efforts to provide generous financial aid packages to students, combined with our outstanding job placement rate, continue to put Trine graduates in a strong financial position as they begin their careers," said Kim Bennett, vice president for enrollment management.
Trine University awarded more than $36 million in financial aid last year, with the average student receiving more than $35,000 in aid from all sources. The university also has boasted more than 99 percent job placement for graduates over the past seven years.
The university also provides services to help students track and manage loan debt, including an on-staff financial literacy specialist, annual summaries of student borrowing and in-person exit counseling prior to graduation or withdrawal. Students also receive classroom presentations during their freshman year and regular communications regarding loan options and repayment throughout their enrollment at Trine.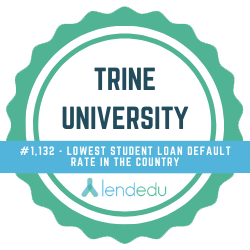 The LendEDU report analyzed student loan default data released by the U.S. Department of Education on Sept. 20. The report found that, nationwide, the student loan default rate dropped to 9.7% in 2017, the year covered by the data, from 10.1% the prior year.
The report is available at lendedu.com/blog/student-loan-default-rates-by-school-state-2020/.
Launched in 2014, LendEDU helps consumers learn about and compare financial products, including student loans, personal loans, credit cards, insurance products and banking products.
Last Updated: 10/19/2020