MLK speaker stresses need for relationships to build unity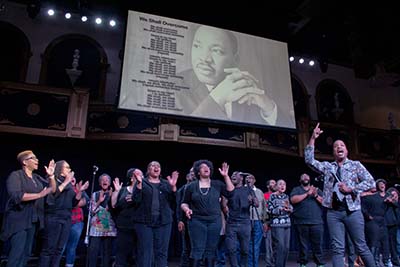 As much as Joe Martin, Ed.D., reveres Dr. Martin Luther King Jr., he said Dr. King's work was incomplete.
"What we're lacking is learning and life together," he said during Trine University's 29th annual Dr. Martin Luther King Jr. and Black History Month Celebration. "I am thankful for Dr. King. I wouldn't be standing here today if it weren't for him. But the job is not done."
Martin, an award-winning speaker, university professor and author, returned as keynote speaker for the second straight year for the event, held Feb. 7 in the T. Furth Center for Performing Arts.
The celebration was themed "Unity is Our Greatest Strength." Angola Mayor Richard Hickman, welcoming those who were in attendance to the city, said that unity makes the community, state and country — as well as Trine University — stronger.
"Our history has proven that not just one race, not just one gender, not just one religious faith or culture can fix the problems we seem to be facing now that are dividing us," Hickman said. "Because of people like all of you here this evening, I truly do have faith that our country will become united. But this is a journey that we must take together."
Martin emphasized that connection and relationship are the key to building unity. He commented that the audience in the Furth Center, with multiple races represented, looked to him like heaven.
"Heaven is not going to be segregated," he said. "Heaven is not going to be filled with just the people you like, who you get along with. It's going to be people from different age groups, races, ethnicity, denominations."
He said men, in particular, struggle with building relationships with others.
"We haven't been taught how to build relationships. We haven't been taught how to connect," he said. "How can we have unity if we don't know how to build relationships?"
He cited Coach Jeff Kisiah, founder of Men of Valor and Prayer (MVP) and a personal mentor to Martin, as an example of how to build relationships.
Kisiah's recent funeral, Martin said, included some 500 men of different races. When queried, all 500 said Kisiah had at some point taken them out to lunch, with the server inevitability sitting down and joining them, followed by a time of prayer in the parking lot.
"Be intentional," Martin urged. "Do you think he just made that up along the way?"
Martin also challenged those in attendance to "pray and ask God to put three people in my life who are not part of my family who I can be a blessing to."
"You want to know how serious you are about Martin Luther King Jr.'s dream?" he asked. "If I ask you to pull up your cell phone right now and I look through your contacts, if I know your race or religion, you ain't living right."
In closing, Martin asked, "What are you going to do when you leave here? I want you to go through your phone. Who needs you in their life? Who needs to be blessed by you in your relationships?"
"You've got to invite them into your life," he said. "If you don't, this will only be a dream and it's not going to be reality. Let's stop talking about it and let's be about it."
The Union Baptist Church Mass Choir, under the direction of Niyoki Chapman, and the Sounds of Redemption, under the direction of Chris Ford, provided music throughout the event. The choirs also united to lead those in attendance in an upbeat rendition of "We Shall Overcome" prior to Martin's address.
Photos: Top, Joe Martin, Ed.D., challenges those in attendance at Trine University's 29th annual Dr. Martin Luther King Jr. and Black History Month Celebration to reach out and build relationships with three people outside of family and friends. Such relationships are key to unity in our society, he said. At right, Chris Ford, front right, leads the combined Sounds of Redemption and Union Baptist Mass Church choirs as well as those in attendance at Trine University's 29th annual Dr. Martin Luther King Jr. and Black History Month Celebration in singing "We Shall Overcome." (Photos by Kacie Galloway)
Last Updated: 02/12/2020