Trine student excels, grows through National American Miss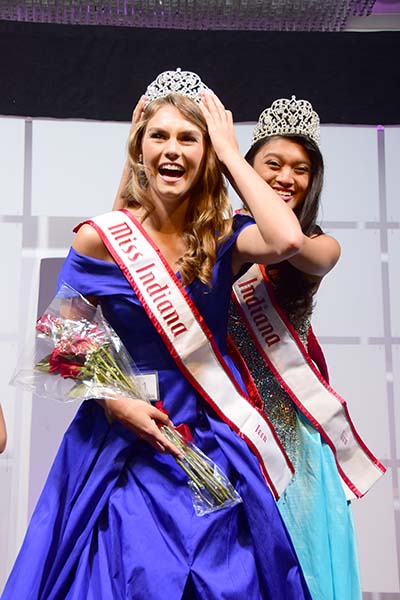 While many Trine University students were spending Thanksgiving break enjoying family, eating lots of food or making a final push to catch up on classwork before semester's end, Kenydee Otto, an exercise science/pre-physical therapy major from Quincy, Michigan, was competing for a national pageant title.
Otto, 2019 National American Miss Indiana Teen, represented the state at the National American Miss pageant in Anaheim, California.
She finished third runner-up in the talent competition with her tap dance routine, "I Wanna Dance With Somebody," and placed third runner-up in the academic achievement competition thanks to her 4.0 grade point average at Trine.
"I met so many inspiring and empowered women. Being surrounded by them was such a surreal experience," she said. "I cannot wait to make more memories, and friendships, during the remainder of my reign."
Otto began competing with National American Miss about six years ago after receiving a letter inviting her to an open call and informational meeting. The National American Miss system focuses on growing confidence and teaching real-world skills such as public speaking, developing a resume and interview etiquette.
Her platform includes raising awareness of hemophilia, a bleeding disorder that prevents appropriate blood clotting. It also impacts her two younger brothers.
"In honor of them, I began sewing and donating hats to local hematology and oncology centers," she said.
She said the skills she has developed through National American Miss have allowed her to discuss the disorder with Michigan state legislators.
"I have advocated for a variety of healthcare issues related to hemophilia, such as prior authorization, Children's Special Healthcare and step therapy," she said.
She competed for the title of 2019 National American Miss Indiana Teen in September in Indianapolis. That competition included four stages: formal wear, personal introduction, interview and community service. Otto eventually was crowned the winner.
"It has been a dream of mine to become a National American Miss state titleholder. To finally reach it in September was absolutely phenomenal and rewarding," she said. "As this was the last year I was eligible to compete, I was shocked, to say the least, that I was finally able to walk away with this opportunity."
The national competition in Anaheim featured an array of activities for contestants throughout the competition week.
"There were additional opportunities to tour the great streets of Hollywood and have an exclusive day in Disneyland," Otto said. "In addition to the required competitions, the week was also jam-packed with themed rehearsals, get-acquainted parties and optional competitions."
With nationals now past, Otto balances her National American Miss Indiana Teen responsibilities with maintaining her GPA, and serving as a Student Ambassador and captain of the High Voltage Dance Team.
"I am excited to lead my team through the rest of this season and begin preparing for NDA Nationals in April," she said.
She plans to promote the North American Miss system through volunteer opportunities scheduled at organizations such as Rise Inc., Ronald McDonald House and the Hemophilia Foundation of Michigan. Her platform has expanded to advocacy for all invisible disabilities through her Instagram page @thenaminteen.
"I hope to begin a separate Instagram and Facebook page promoting both invisible disabilities and hemophilia in the upcoming months," she said.
She is unsure of the next step in her pageant journey, but is grateful for the opportunities she has had so far.
"Without National American Miss I would not have been able to land many academic interviews, community service projects and public speaking opportunities throughout the years," she said. "The skills I have learned from this system have impacted my life tremendously. This system is a part of who I am."
Top photo: Kenydee Otto during the formal wear competition at the National American Miss Teen pageant in Anaheim, California.
At right: Kenydee Otto is crowned National American Miss Indiana Teen in September.
Last Updated: 06/30/2020