Worldwide experience: Trine student travels to Saudi Arabia to video car auction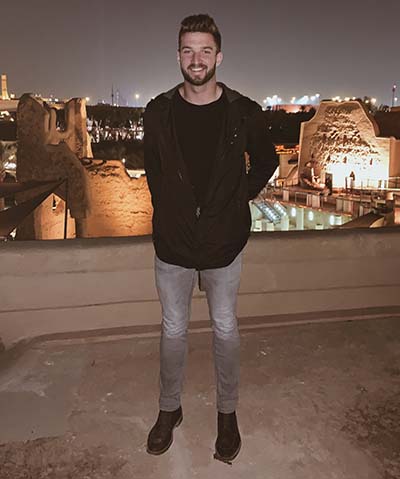 When Worldwide Auctioneers hosted Saudi Arabia's first major collector car auction in November, a Trine University student was there to help record the historic event.
Nick Funk, a junior from Auburn, Indiana, majoring in marketing, serves as video editor and content creator for the Auburn-based company. Worldwide held the auction as part of the inaugural Riyadh Global Auto Salon, a festival designed to boost Saudi Arabian tourism.
As part of his duties, Funk traveled to Saudi Arabia for 10 days to record the event.
Funk started working for the company two years ago thanks to being "in the right spot at the right time."
"I was introduced to my boss informally at my church after I had just moved back from West Virginia," he explained. "I was trying to figure out what I wanted to do with my future. He told me I could take a marketing internship with his company. They liked my video after I worked the first auction."
His only prior travel out of the United States had been with family to Canada and Mexico. He was concerned about taking the time away from school and football — he punts for the Thunder — but said coaches and professors both encouraged him to go.
"They were very supportive and helped me in any way possible not to miss the opportunity," he said.
His first impression upon landing in Saudi Arabia was that the people were very hospitable. The hospitality continued through the excursion, as the visitors were given Arabic coffee and dates at the airport and every place they entered.
"Airport security was way less strict than anything in the United States," he said. "We just walked right through customs."
The auction itself lasted four days, and involved some of the most prominent people of the kingdom of Saudi Arabia, according to Funk. He compared the event to the annual Specialty Equipment Market Association (SEMA) car show held in Las Vegas, but on an even larger scale.
"I was capturing the experience as a whole," he said. "We wanted to take full advantage of the opportunity as much as we could from a marketing standpoint. My job was to capture an experience that would promote us and the kingdom of Saudi Arabia."
Favorite memories include walking on the Formula E track, where electric formula cars race each year. He also visited Al Diriyah, which once served as Saudi Arabia's capital. The ruins of mud-brick structures dating back to the 1400s remain.
"It was such a cool experience because I actually got to engage with the culture," he said. "They had re-enactments that were consistent with the culture there today."
He said the culture was like nothing he had experienced before. It also created unique challenges when shooting video.
"I had to be very careful where I pointed the camera because many people were very timid, even when women wore their head coverings," he said.
He continues to travel with Worldwide Auctioneers, though more recent locations have not been as exotic. He worked at the company's annual auction in Scottsdale, Arizona, in January, and will go to future auctions in Arizona, California and Texas.
"We can get someone to consign with us to sell their cars anywhere in the world and we can go there," he said.
He hopes to work for large corporations doing video once he graduates from Trine.
"This trip helped me see the diversity in the world and also experience diversity in my work and how creative I can be," he said. "Worldwide Auctions has given me the tools and experiences to help me grow in numerous ways, and I am fortunate for that."
Photos: Top, Nick Funk stands next to a McLaren P1 GTR at the Riyadh Global Auto Salon. The vehicle was part of a display of some of the world's most expensive cars. At right, Nick Funk stands on a rooftop in the old mud brick city of Al Diriyah in Saudi Arabia. Bottom right, fireworks erupt behind the Worldwide Auctioneers display at the Riyadh Global Auto Salon.
Last Updated: 06/30/2020