Conference USA administrator shares career tips with Trine students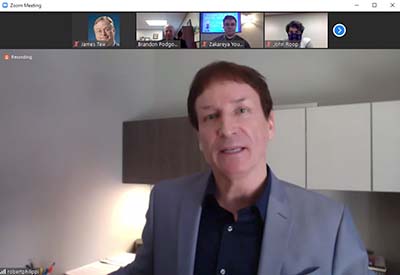 Trine University students considering a career in collegiate athletics had the opportunity to hear from someone who is at one of the top echelons in the field.
During a special virtual event sponsored by the Trine Center for Sports Studies (CSS) on Nov. 4, Dr. Robert Philippi, senior associate commissioner of Conference USA, spoke and answered questions posed by Brandon Podgorski, CSS director, for about an hour.
Philippi opened by introducing students to some of the nuances of each of the NCAA's three divisions, which represent about 1,000 institutions altogether.
Division and conference affiliations result from an institution's goals, he said. For example. The University of Chicago was once in the Big Ten, but eliminated athletics because the university felt they were a distraction to academic endeavors, before eventually bringing them back at a lower level.
On the other hand, the University of Nevada-Las Vegas, where Philippi worked before joining Conference USA, built a successful basketball program to raise its profile.
"They actually used athletics to recruit faculty," he said.
NCAA Division I conferences like Conference USA, in addition to hosting championships and tournaments, assist members in areas such as student services, academics, compliance, marketing and promotion. They also support the Division I governance structure and give direction to leadership at the individual schools.
He strongly suggested that anyone interested in a career in intercollegiate athletics gain some experience with NCAA compliance.
"That might not be your endgame, but at least you have an understanding, and if you move up the ladder, where you're an athletic director or senior-level person, when you're talking with your compliance people, you can fully understand what they're talking about," he said.
He said the COVID-19 pandemic has impacted every aspect of collegiate athletics this year, from recruiting to eligibility.
"We've had weekly calls with medical professionals, the NCAA sport science institute, local officials, CDC recommendations to provide the safest environment that student-athletes can participate in," he said. "That's kind of ongoing as things evolve."
He encouraged students to volunteer for athletic organizations to gain experience, and told them they must remain passionate about athletics as a career to be successful.
"If you follow your passion, you're not going to leave work and just turn it off," he said. "You're probably going to be going home and thinking about it on the weekends. If you're not following your passion, there are people who are, so how are you going to compete with that and reach the upper echelon?"
He closed by telling students to value the relationships they have now, noting that classmates he had in his master's degree program are now working for organizations such as the Minnesota Vikings and Milwaukee Brewers.
"These are the people who are going to be your future colleagues, people that you might rely on," he said. "Don't be afraid to lean on them."
Last Updated: 11/11/2020