Sororities support shelter through fundraiser
By Brandi Wilson
Communication '21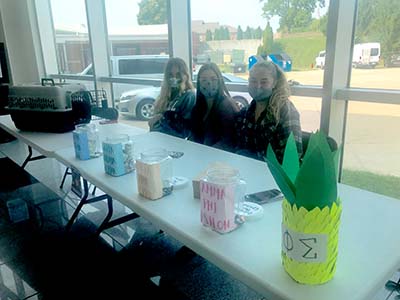 Trine University sororities worked together the week of Sept. 12-19 to raise money for the Community Humane Shelter of Steuben County through an event called the Shelter Cup.
Grace Floto, a Trine University senior majoring in management, is on the board for the Community Humane Shelter of Steuben County and was saddened when the major fundraiser for the shelter, Casino Night, was canceled as a result of the COVID-19 pandemic. Since the shelter operates mainly on donations, an alternative event was needed to raise the money needed to run the shelter.
The shelter decided to host an online event titled Tuxes and Tails. In addition, Floto set up the Shelter Cup event, which included the five sororities at Trine.
"We described it as a little friendly competition among the five sororities to see who could raise the most money in one week for the shelter," Floto said. "The sorority that raised the most amount of money received a pizza dinner as well as a framed picture recognizing them in the shelter lobby."
Inside the Rick L. and Vicki L. James University Center, members from each sorority sat at a table with five jars, each labeled for a different sorority. People who passed by could put their change or donations into the sorority jar of their choice. In addition, sorority members posted on social media to encourage others to donate money to the charity. Two students, in particular, greatly contributed to the fundraiser.
"I would like to give a huge thank you to two Trine students who donated large amounts, Alex Majewski and Sydney Augsburger," Floto stated.
The effort greatly exceeded expectations, with $1,096.32 raised and the Kappa Sigma Alpha sorority coming in first place with a total of $712.30. This money was added to the main Tuxes and Tails total, which was close to $80,000. This far exceeded the $20,000 goal.
"I would like to thank all the sororities for participating, everyone who donated, the cute kittens from the shelter that hung out at the table to help collect donations, Clare Danner (College Panhellic advisor) and the shelter board for all the hard work they put into this entire event," said Floto.
Photo at right: Trine students, from left, Riley Doll, Grace Floto and Madysen Snyder collect donations for the Community Humane Shelter of Steuben County during the Shelter Cup event.
Last Updated: 10/09/2020