Women engineers make connections at national conference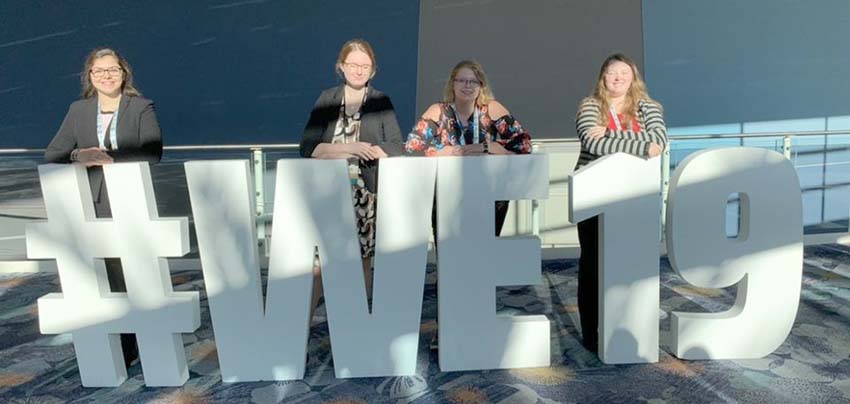 For four female engineering students from Trine University, WE19, the annual conference of the Society of Women Engineers (SWE), was the chance of a lifetime.
"I had never met that many women in STEM. I'm a mechanical engineering major, so I'm generally the only girl in my class," said Jenna Wilson, from Paulding, Ohio. "It was nice to meet people who had similar interests to me who weren't a bunch of guys."
Held Nov. 7-9 in Anaheim, California, the conference brought together more than 14,000 people from around the world to celebrate and promote the inclusion of women in engineering professions.
"It's a great opportunity to celebrate being a woman and an engineer," Wilson said.
The conference also is known for hosting the world's largest career fair geared specifically toward women in engineering and technology fields. Kathleen Jutte, a design engineering technology major from Fort Recovery, Ohio, said there were more than 200 employers in attendance.
"All your big names like Honeywell, GM, Cummins, Ford — there was every type of engineering you could possibly imagine," she said.
Jutte, who serves as secretary and vice president for Trine's SWE chapter, said the group took advantage of the opportunities offered.
"We signed up for just about anything we could," she said. "I went to a CIA seminar. In addition, we did a seminar that went through the steps to be a spy. Learning how an engineer could be a spy was amazing."
Group members also were able to make connections with many different women in engineering.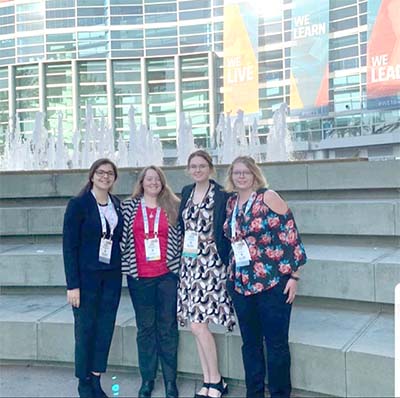 "I really enjoyed seeing and talking with other women in science and engineering who were excited to be just starting off in their field, or to talk about the cool things they get to do in their line of work," Caroline Hipskind, a mechanical engineering major from Fort Wayne, Indiana, said. "Also, a friend of mine had recently graduated and accepted a position with an aerospace company located nearby, so I was able to reconnect with her and even meet her manager."
"I met a bunch of people from Indiana, Purdue and Indiana Purdue Indianapolis, and I made a friend from New Orleans," Wilson said.
"There was somebody from Portland, Indiana, just 10 miles from my hometown," Jutte said. "She was on her way to being CEO of a company."
However, the group's main focus was the career fair. Aubrey Tunberg, a mechanical engineering major from Avon, Indiana, said the fair gave her the opportunity to meet with companies in aerospace and aeronautics, which she hopes to pursue as a career.
She was offered an internship with Boeing's Oklahoma City facility at the conference. She was invited by a Boeing employee to attend an evening event that featured three-minute interviews with each of the company's departments.
"One of the departments I chose was their defense department, who suggested I go talk to the structures department," she said. "I went over and ended up having an awesome conversation with the two engineers, and we scheduled an interview that night for the next day. That following morning I went to the interview, and they offered me a position later that day."
Caroline Hipskind, a mechanical engineering major from Fort Wayne, Indiana, also hopes to pursue a career in aerospace. She said the conference gave her the opportunity to interact with a wide spectrum of companies in the field.
She had five interviews and accepted a job with Northrop Grumman.
"I had never done a true face-to-face interview prior to the conference, so I was pretty nervous," she said. "Going into the third day, I had two interviews with the same company planned for later in the day, but at an evening event the night before, I had been able to catch another potential employer who told me to stop by their booth in the morning. So I stopped by, and, after talking for a bit, they told me to come back in a few minutes to see if they could squeeze me in for an interview.
"In less than ten minutes between walking away and getting a phone call back, I had secured another interview, with the call telling me to come for an interview that would start in less than a half-hour! So I suddenly had interviews for the next four hours and still needed to grab something for lunch, and then run, in heels, to the right exhibit hall. At least I didn't have time to be nervous anymore."
Jutte received a job offer from Pierce Manufacturing, a sister company to Oshkosh Corporation, and will move to Appleton, Wisconsin, on May 9.
"We'll be making fire trucks, and I'm so excited," she said. "I honestly didn't really plan on getting a job. I just wanted to network, but I'm so glad that I did get a job."
Wilson also received a job offer through the conference, but accepted an offer from a company she met at a different career fair.
The group also was able to make a side trip to Heisler Park in famed Laguna Beach, and saw the SpaceX rocket.
Trine SWE members received support from Trine Student Government, Irene Ulbrich of Caleo Café in Angola, and Sheri Trine, who paid for their hotel rooms.
Jutte said SWE hopes to take eight members to the 2020 conference, which will be held Nov. 5-7 in New Orleans. The organization already has fundraising efforts underway.
Photos: Top, from left, Trine engineering students Aubrey Tunberg, Caroline Hipskind, Kathleen Jutte and Jenna Wilson at the WE19 conference in November. Below right, from left, Trine engineering students Aubrey Tunberg, Jenna Wilson, Caroline Hipskind and Kathleen Jutte stand outside the WE19 conference.
Last Updated: 06/30/2020