Trine VITA volunteers complete more than 100 tax returns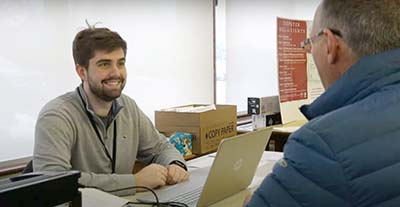 Despite Trine University and the Carnegie Public Library of Steuben County closing in late March due to COVID-19 restrictions, university volunteers completed more than 100 tax returns for northeast Indiana residents through the Volunteer Income Tax Assistance (VITA) program this spring.
This is the third year students in Trine's AC 383 and 483 Voluntary Income Tax Assistance classes have completed returns for low- to moderate-income residents. Jeff McGowan, assistant professor in Trine's Ketner School of Business, said the classes' nine students completed about 80 returns before in-person sessions were halted the second week of March.
Since then, McGowan has completed returns that were scheduled, but canceled due to COVID-19, at Auburn's Catholic Charities office.
During the spring semester class, students complete a federal income tax course during the first three weeks to earn certification as advanced VITA preparers. They spend the rest of the semester assisting community members with tax returns.
"It's great hands-on experience for the students," McGowan said. "They get to do live returns and get to serve the community at the same time, so it's a real win-win."
Photo: Cougar Wallace of Glennie, Michigan, who graduated from Trine University with an accounting degree this spring, works with a VITA client at the Carnegie Public Library of Steuben County earlier in the semester.
Last Updated: 06/30/2020